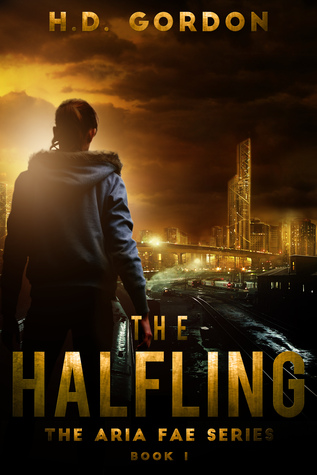 Posted by Melanie
Release Date:
February 2nd,

2016
Finished Date:
Jan

uary 9th, 2016
Publishers:
Self Published
Genre:
YA,

Paranormal
Source: For Review
Format: eARC
Pages:
Unkno

wn
Buy:
Amazon UK
/
Amazon US
Being seventeen and an outcast is hard. Being seventeen and only half human is harder.

When Aria Fae gets cast out of the Peace Brokers, a secret supernatural organization that's trained her since infancy, and is left to fend for herself in the human world, she finds herself in Grant City, intent on attempting a normal human life.

As a Halfling, Aria has abilities that are a little underused in the flower shop she lands a job at. And when her new friend Samantha Shy enlists Aria to help investigate her mother's death, the two girls decide to become vigilantes.

A new drug called Black Magic is running rampant in the streets of Grant City, turning people into supercharged maniacs. With Sam's mad computer skills, and Aria's Faevian abilities, they may be just the heroes Grant City is in need of.

Or they may find out they're in way over their heads, and their mutual crush on the same guy is the least of their worries.
The Review:
The Halfling is the first book in the new Aria Fae series by the amazing H.D Gordon and takes place in the world of her other series – Alexa Montgomery Saga and Surah Stormsong novels – but you don't have to have read those to enjoy this.
As the synopsis states- Aria Fae is 17 and on her own after being cast out of the Peace Brokers, an organisation that has trained her since she was a child. She finds herself in Grant city living in a run down neighbourhood, forced to get a job to survive and see her through school until she graduates. She immediately finds a friend in Samantha Shy when she stops the school bully from abusing her and they find that they have a couple of things in common. When she confides in Sam that she is a Halfling – half fae/half human – they begin an adventure as vigilantes with Aria being the masked avenger and Sam being the brains behind the outfit. They find out that because of a new drug flooding the city, people are becoming increasingly violent and women of all ages are going missing or being killed….. so let's hope these girls know what they're getting themselves into.

So, this was awesome! I always know I'm going to get a good read from this author and I was not disappointed.
Aria is a kick ass character and even though she seems quite pitiful and struggles with depression, she gets the job done. I love a good female lead character and Aria is definitely capable of looking out for herself, she is very likable and easy to connect with often making my heart ache for her and what she was going through. It was actually refreshing to see a character such as Aria deal with mental health issues, describing how she would be pulled into certain moods and such… it makes her more relatable. She and Sam were a great team and it's nice to see these two come together through shared tragedies and bolster each other up, they each open each others eyes to different things and ways of life and share a friendship that you can tell will stand the test of time. Aria gets a love interest in this but it doesn't take over the story and to be honest I was more interested in her mysterious brooding neighbour who has the potential to be something more???
The storyline was fab and just what I have come to expect from this author. The scenario of women going missing, a drug that is affecting people in strange ways and murders aplenty set up Grant City as quite the scary place to be. The story was very super hero-esque and reminded me of Arrow or Flash with the hero being out to make their city safe whilst a computer genius(s) backs them up in their lair. Aria's back up were Sam and Matt and they were like a little family instead of a team, they also brought some light heartedness to the plot which was nice. For most of the story, the enemy is faceless and could be anyone, getting clues were hard come by but there was plenty of action when Aria was in masked mode and this injected a lot of excitement to the plot, she was an epic fighter and had a parkour/free running style to her self and her combat. I thought the story also had a gritty, real feel to it and could easily be a great book without the supernatural element. I thought the pacing was great also and my only grumble is that I wish Aria had been a bit older but this is just the beginning and I can tell it has a lot more to give. I am left with huge questions - I really want to know more about Thomas Reid - but liked the conclusion to this and it was tied up nicely, so now I can't wait for more!
Thank you to H.D. Gordon for giving me the opportunity to review this book in exchange for an honest

review.