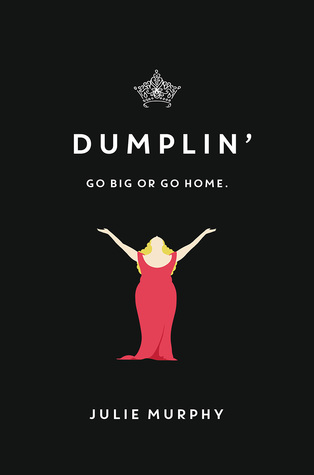 Posted by Donna
Release Date:
January 28th,

2016
Finished Date:
Jan

uary 17th, 2016
Publishers:
HarperCollins
Genre:
YA,

Contemporary
Source: For Review
Format: Hardback
Pages: 384
Buy:
Amazon UK
/
Amazon US
For fans of John Green and Rainbow Rowell comes this powerful novel with the most fearless heroine-self-proclaimed fat girl Willowdean Dickson-from Julie Murphy, the acclaimed author of Side Effects May Vary. With starry Texas nights, red candy suckers, Dolly Parton songs, and a wildly unforgettable heroine-Dumplin' is guaranteed to steal your heart. Dubbed "Dumplin'" by her former beauty queen mom, Willowdean has always been at home in her own skin. Her thoughts on having the ultimate bikini body? Put a bikini on your body. With her all-American-beauty best friend, Ellen, by her side, things have always worked ...until Will takes a job at Harpy's, the local fast-food joint. There she meets Private School Bo, a hot former jock. Will isn't surprised to find herself attracted to Bo. But she is surprised when he seems to like her back. Instead of finding new heights of self-assurance in her relationship with Bo, Will starts to doubt herself. So she sets out to take back her confidence by doing the most horrifying thing she can imagine: entering the Miss Teen Blue Bonnet Pageant-along with several other unlikely candidates-to show the world that she deserves to be up there as much as any twiggy girl does. Along the way, she'll shock the hell out of Clover City-and maybe herself most of all.
The Review:
Dumplin' by Julie Murphy was a book I knew I wanted to read. I'd heard great reviews from the people who had read so I knew I was going to like it and I was right!
Willowdean is dubbed as Dumplin' by her mother. It's her nickname for her but there's one thing Willowdean doesn't want and that's for all the people at school to catch on to the embarrassing title. Being a 'larger' girl Will has never felt comfortable in her body and even more so when she takes notice in Bo – the guy she works with. But when Bo starts showing interest in her Will just can't be happy with herself she knows she will always compare herself to the much skinner girls. So in a way to try and take back her confidence and do something her late aunt could never do for herself, Will enters the Miss Clover City beauty pageant – the one her mother won all them years ago. But will she have the confidence and strength to show the world that not only skinny people deserve to be a Queen?
I really enjoyed Willowdean's story and I just loved the Dolly Parton reference's. I had Jolene stuck in my head all the way through the story! Will was such a strong character at times and I so wanted for her to see her own beauty and become more confident about her body. Girls and Women are always worried about their weight at some point in their lives and I was sad for Will that it came so early for her and it was such a battle. I could sympathise with her struggles and my heart really went out to her. Her relationship with her mother was slightly rocky. I felt as though her mother really 'helped' her and just tried to ignore that she had a daughter that was slightly larger. I really wanted her to open her and just accept Will for the way she was but there was nothing wrong with her. And I really would have loved to have read more about Aunt Lucy who sounded liked the Mother Will should have had.
Will and Bo's relationship is a rollercoaster but one I loved. Bo didn't look at things like Will, he didn't see her as the 'fat' girl but just for her. He's so sweet!
In all, I really enjoyed Dumplin' and I'll definitely be keeping my eye out for more work by Julie!
Thank you to HarperCollins for giving me the opportunity to review this book in exchange for an honest

review.