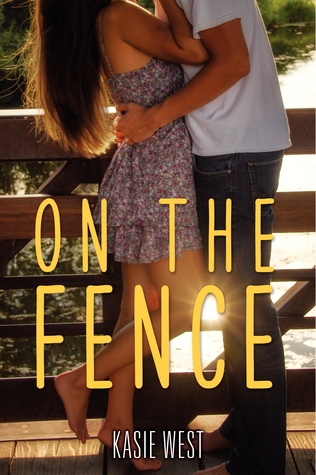 Posted by Donna
Release Date: July 1st
, 2014
Finished Date: August 25th, 2014
Publishers:
HarperTeen
Genre:
YA Contemporary Romance
Source: For Review
Format: eARC
Pages: 298
For sixteen-year-old Charlotte Reynolds, aka Charlie, being raised by a single dad and three older brothers has its perks. She can outrun, outscore, and outwit every boy she knows—including her longtime neighbor and honorary fourth brother, Braden. But when it comes to being a girl, Charlie doesn't know the first thing about anything. So when she starts working at chichi boutique to pay off a speeding ticket, she finds herself in a strange new world of makeup, lacy skirts, and BeDazzlers. Even stranger, she's spending time with a boy who has never seen her tear it up in a pickup game.
To cope with the stress of faking her way through this new reality, Charlie seeks late-night refuge in her backyard, talking out her problems with Braden by the fence that separates them. But their Fence Chats can't solve Charlie's biggest problem: she's falling for Braden. Hard. She knows what it means to go for the win, but if spilling her secret means losing him for good, the stakes just got too high.
T
he Review: A sweet, swoon-worthy and a super quick read, On the Fence is the perfect summer read!
Sixteen-year-old Charlie is one of the guys. She loves sports. She loves hanging out with her four brother's well, technically only three are her brothers, the other one – Braden is her next door neighbour but he spends so much time at her house with her brothers, he's practically one. When Charlie has trouble sleeping she finds solace in walking outside and more so when Braden starts joining her at their fence and they talk the night away, discussing things they might not be able to say face to face.
After reading Kasie West's other YA contemporary The Distance Between Us and not loving it as much as I would have hoped, I went into On the Fence with no expectations. Going into this book with no expectations definitely was the right idea because I quickly became addicted and couldn't put it down. I definitely fell in love with this story!
I really enjoyed the plot of the story. I love friendships that turn into a relationship and it always helped when there is such a swoon-worthy romance too. Charlie and Braden's relationship was fun and honest. I loved that their connection went both ways and how they opened up to each other – at night at the fence – was so cute. What made this story so memorable for me was definitely the relationship all the characters had. Charlie's brothers are all fantastic and so much fun. I lost count how many times I laughed during the book and I loved reading their banter going back and forth. But I also loved how loyal they were to one another, it was very touching.
Charlie as a character was easy to like and get to know. She grows a lot through the book and trying to find her place in the world. Being a tomboy comes with its problems such as not knowing how to wear make-up and wear girly clothes. I liked that she got the best of both worlds, kind of like leaving a different life in which Charlie mentions a few times. But it was also great when she finally found the right balance and also found out of the things that were troubling her life at night time.
Overall, Kasie West definitely won me over with On the Fence! If you're looking for a great summer read with awesome characters, then this is for you.
Thank you to Harper Teen for giving me the opportunity to review this book in exchange for an honest review.