"Waiting On" Wednesday is a weekly event, hosted by Jill at Breaking the Spine, that spotlights upcoming releases that we're eagerly anticipating.
Jess's WoW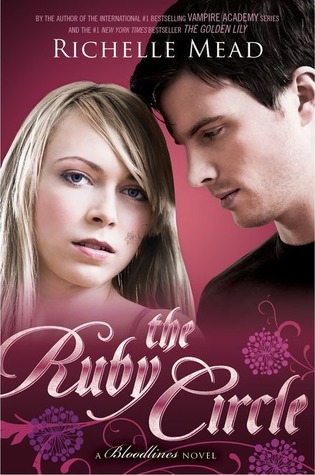 The Ruby Circle (Bloodlines #6)
by Richelle Mead
Release Date: February 10th, 2015
The epic conclusion to Richelle Mead's New York Times bestselling Bloodlines series is finally here...
Sydney Sage is an Alchemist, one of a group of humans who dabble in magic and serve to bridge the worlds of humans and vampires. They protect vampire secrets—and human lives.
After their secret romance is exposed, Sydney and Adrian find themselves facing the wrath of both the Alchemists and the Moroi in this electrifying conclusion to Richelle Mead's New York Times bestselling Bloodlines series. When the life of someone they both love is put on the line, Sydney risks everything to hunt down a deadly former nemesis. Meanwhile, Adrian becomes enmeshed in a puzzle that could hold the key to a shocking secret about spirit magic, a secret that could shake the entire Moroi world.
Jess's thoughts:
"More Adrian, but also the final chapter of Adrian. Of course I'm excited for this! This cover is gorgeous too"
Donna's WoW
Breaker (Ondine Quartet #4)
by Emma Raveling
Release Date: TBC
War. Prophecy. Freedom.
She fought for herself.
She fought for friendship and love.
Now, Kendra Irisavie fights for the survival of her world.
War rages on, leaving no one untouched. Destruction rips through elemental communities and terror flourishes in its wake. Suspicion soars, order fractures, and loyalties crumble despite Kendra's desperate attempts to protect everyone she holds dear.
When an organized Aquidae army launches a series of merciless assaults, Kendra and her friends set out to end the bloodshed once and for all. With the fate of elementals hanging in balance, the Shadow and sondaleur hunt each other down in a brutal match of cunning and will.
Kendra has trained for this her entire life. But in a ravaged world where trust is scarce and no life is sacred, she soon realizes her battle may be against an invincible enemy and that her darkest days lie ahead.
Twists and turns shape her harrowing odyssey, leading to a stunning climax that challenges everything she believes in.
Torn between destiny and autonomy, Kendra must finally decide whether the cost of freedom is too high.
Heartbreaking decisions, turbulent alliances, and shattering revelations collide in Breaker, the explosive conclusion to the Ondine Quartet.
Donna's thoughts: The end is near and it's going to be an exciting but I'm guessing emotional too. I simply can't wait to see how this series ends. Self published author Emma Raveling has done an amazing job with it so far so I know she won't disappoint!
<
What's your "waiting on" pick this week?
Want to participate?
Grab the logo, post your own WoW entry on your blog, and leave your link at Breaking the Spine.
Happy Reading!