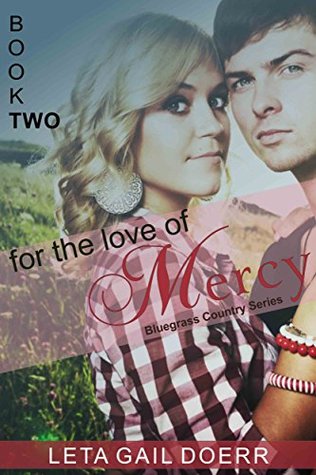 Posted by Jess
Release Date: July 24th
, 2014
Finished Date: August 15th, 2014
Publishers:
Self Published
Genre:
New Adult, Romance, Contemporary
Source: For Review
Format: eBook
Pages: 171
The only son of wealthy parents, Tyson "Jax" Ridgeton never wanted for anything, until he learns a hidden truth: adopted at the age of three, the mental images of an older sister he once passed off as fragmented dreams are real.
Armed only with a faded photo of his lost sibling, Jax lands in Brushville, Kentucky where he meets local waitress Mercy Lynn Callaway.
Mercy's unflinching optimism annoys Jax, but the curves of her body and her unwavering willingness to help his cause won't let him go.
Together, they delve into Jax's past. But as unearthed secrets grow more and more dangerous, Jax makes an unexpected discovery: he'll sacrifice everything for the love of Mercy.
T
he Review: I was pretty excited to receive this book for review as I really enjoyed the first one when I read it (For the Love of Big Orange). The things that I love most about these types of books is that they always ooze that Southern charm, and I'm a sucker for all things Southern when it comes to the U.S.
We meet Jax first of all, he's pretty spoiled, and soon learns he has a sister somewhere. He heads out to Kentucky in search of her, and he ends up finding Mercy-Lynn; and then everything he didn't know he wanted. Mercy-Lynn is southern girl to the heart, and she's optimistic about everything even though she's had a pretty shitty life. Her and Jax find their way together, and with each others help they prove to be a powerful combination.
This book pretty much had me from the first page and I actually couldn't put it down. You really feel yourself get immersed into the world of Brushville, Kentucky and you simply sit and enjoy every moment. From the accents, to the diners, to the small towns, to the big farms. It's all there, and it's so well written that you are captivated.
I decided this was a 4 star, I dropped a star, mostly for the reason that I wanted something much bigger to come out of the ending, but it all felt a little anti-climatic. Overall For the Love of Mercy was not a bad book, in fact it was pretty good; and I most definitely look forward to reading book 3 in the series.
Thanks to author Leta Gail Doerr for providing a copy in exchange for an honest review.