"Waiting On" Wednesday is a weekly event, hosted by Jill at Breaking the Spine, that spotlights upcoming releases that we're eagerly anticipating.
Donna's WoW
The Shadow Queen (Ravenspire #1)
by C.J. Redwine
Release Date: February 23rd, 2016
Lorelai Diederich, crown princess and fugitive at large, has one mission: kill the wicked queen who took both the Ravenspire throne and the life of her father. To do that, Lorelai needs to use the one weapon she and Queen Irina have in common—magic. She'll have to be stronger, faster, and more powerful than Irina, the most dangerous sorceress Ravenspire has ever seen.
In the neighboring kingdom of Eldr, when Prince Kol's father and older brother are killed by an invading army of magic-wielding ogres, the second-born prince is suddenly given the responsibility of saving his kingdom. To do that, Kol needs magic—and the only way to get it is to make a deal with the queen of Ravenspire, promise to become her personal huntsman…and bring her Lorelai's heart.
But Lorelai is nothing like Kol expected—beautiful, fierce, and unstoppable—and despite dark magic, Lorelai is drawn in by the passionate and troubled king. Fighting to stay one step ahead of the dragon huntsman—who she likes far more than she should—Lorelai does everything in her power to ruin the wicked queen. But Irina isn't going down without a fight, and her final move may cost the princess the one thing she still has left to lose.
Donna's thoughts: This cover...wow! It's stunning. And the story sounds fantastic. I'm so glad more YA authors are taking their try at fantasy stories!
Melanie's WoW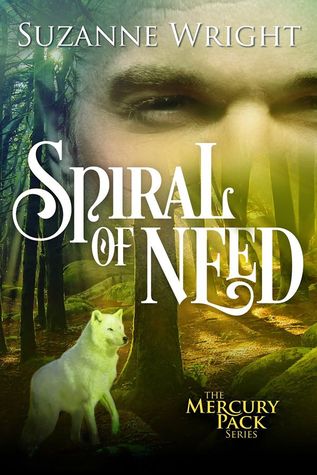 Spiral of Need (The Mercury Pack #1)
by Suzanne Wright
Release Date: September 29th
, 2015
Ally Marshall isn't just a wolf shifter — she's a Seer.
But a girl doesn't exactly need special powers to know that Derren Hudson despises her entire kind. Disdain practically rolls off the Beta of the Mercury Pack . . . disdain mixed with a healthy dose of desire. And no matter how much the ruggedly handsome male appeals to her, this is one call of the wild she's determined to ignore.
After one betrayal too many, Derren doesn't have much use for Seers — except for Ally.
Forced into acting as her protector, he finds himself intensely and passionately drawn to the woman who incites his primal instinct to claim.
And when enemies target the pack, Ally's gift may be just what the Mercury Pack needs.
Can he put his distrust aside, or will he force himself to turn his back on the one woman who makes his inner beast howl?
Melanie's thoughts: O
ooo, A new pack series from Suzanne Wright! Yes please!!
<
What's your "waiting on" pick this week?
Want to participate?
Grab the logo, post your own WoW entry on your blog, and leave your link at Breaking the Spine.