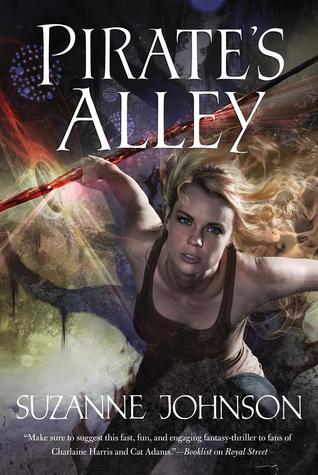 Posted by Melanie
Release Date: April 21s, 2015
Finished Date:
July 18th, 2015
Publishers:
Tor
Genre:
Urban Fantasy
Source: For Review
Format: Hardcover
Wizard sentinel DJ Jaco thought she had gotten used to the chaos of her life in post-Katrina New Orleans, but a new threat is looming, one that will test every relationship she holds dear.
Caught in the middle of a rising struggle between the major powers in the supernatural world—the Wizards, Elves, Vampires and the Fae—DJ finds her loyalties torn and her mettle tested in matters both professional and personal.
Her relationship with enforcer Alex Warin is shaky, her non-husband, Quince Randolph, is growing more powerful, and her best friend, Eugenie, has a bombshell that could blow everything to Elfheim and back. And that's before the French pirate, Jean Lafitte, newly revived from his latest "death," returns to New Orleans with vengeance on his mind. DJ's assignment? Keep the sexy leader of the historical undead out of trouble. Good luck with that.
Duty clashes with love, loyalty with deception, and friendship with responsibility as DJ navigates passion and politics in the murky waters of a New Orleans caught in the grips of a brutal winter that might have nothing to do with Mother Nature.
War could be brewing, and DJ will be forced to take a stand. But choosing sides won't be that easy.
The Review: Pirate's Alley is the fourth book in the Sentinels of New Orleans series and it was great to be back with this cast of characters. Things are about to get all political for DJ as her personal and professional lives are about to clash and force her to re-evaluate every relationship she has with various people. We begin with the fallout from book three, those responsible are to face a trial and DJ is required to be there but there's a twist straight away when they try to pin the blame on her and when she responds….she opens up a whole can of worms that leads to a power struggle between the council of elders. Not only that but she is forced to officially babysit Jean Lafitte to be sure he can't exact revenge on those who betrayed him and her best friend Eugenie makes things more complicated when she shares her news – leaving DJ stuck between a rock and a hard place.
I thought this was a turning point for DJ, she has many issues in her life that she didn't have before she let people in and now she has to make a stand and sort out who and what she can be to these people. Her relationship with Alex is in a weird state, Alex is all about rules whereas DJ likes to bend them and where he is a black and white, kinda guy – she totally sees all of those shades of grey… and that is becoming a problem between them which will reach critical here. I still love these two together, I hate the drama between them because it seems like the author is letting us down gently, so that we can see it isn't going to work and I'm actually a little nervous that these two might not survive what's coming which would be such a shame considering how long it took them to get together.
Then we have Eugenie her BFF and her little drama is about to cause all sorts of problems for DJ, not only is she forced to be a mediator for her but she could also be forced to end the problem in a way that wouldn't be good for anyone involved. When she lets one person in on the secret, she gets betrayal in return and puts her in a spot she doesn't want to be in, making her make yet another choice.
Jean Lafitte is next in line for DJ when she is made to babysit him so that he doesn't go after vengeance – which he feels is his right. DJ understands where he is coming from and the Elders don't understand how the Historical Undead do things, so her relationship with Lafitte comes to a turning point also. DJ owes him her life, she shares a bond with him and also a friendship and before she makes any sacrifices for him – they need to know where they stand with each other. I really like the relationship these two have, it's a weird part of a love square that hasn't been acted on but gives DJ options. TBH I wouldn't mind seeing where these two go but Alex is the best for her without a doubt. It was good that they finally clear the air between them and he makes her see things in a different light. He's a dark horse is Jean Lafitte and I really want to see where his story goes.
Then we have Rand, DJ's husband/not husband/pain in the ass! We get to see a couple of sides to him throughout this and poor DJ is forced to deal with him a lot. I don't trust him as a character, he is part of the love square but has no chance other than the fact that he tricked her into bonding with him. He's sly and manipulative and I could have throttled him by the end of the book but there were times when we saw a vulnerable side to him – just not enough for me to like him.
Now, all of that relationship drama is weaved into the story of a power struggle. Following the revelations of the trial, the accused and some others are fugitives and that has left the council leaderless and the alliances with each magic sect in ruins. There is a lot of manipulation going on and more than one person will be left wondering whether to do what they know is right or what they have been ordered to do. There are multiple assassination attempts on multiple characters that will definitely rock their world and send the powers that be into a tail spin. Jean Lafitte tells DJ that war is coming and you can believe it with all of the strife caused in this book and whilst it may seem that DJ is the one to come to a turning point on where she stands with people, there are a lot of people who make themselves and their agendas known. Things are going to totally change for DJ from this moment on and I can't wait to see what's next for her.
4.5 Flowers
Thank you to Tor for giving me the opportunity to review this book in exchange for an honest review.