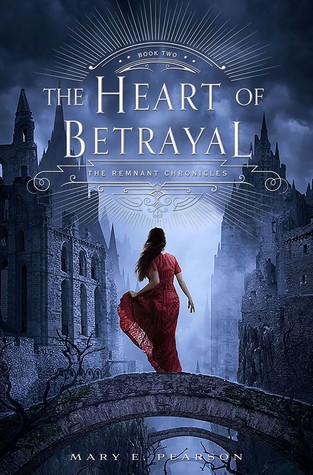 Posted by Donna
Release Date: July 7th, 2015
Finished Date:
July 11th, 2015
Publishers:
Henry Holt and Co. (BYR)
Genre:
YA, Fantasy
Source: Bought
Format: Hardcover
Intrigue abounds in this hotly anticipated sequel to The Kiss of Deception!
Held captive in the barbarian kingdom of Venda, Lia and Rafe have little chance of escape. Desperate to save her life, Lia's erstwhile assassin, Kaden, has told the Vendan Komizar that she has the gift, and the Komizar's interest in Lia is greater than anyone could have foreseen.
Meanwhile, nothing is straightforward: there's Rafe, who lied to Lia, but has sacrificed his freedom to protect her; Kaden, who meant to assassinate her but has now saved her life; and the Vendans, whom Lia always believed to be barbarians. Now that she lives amongst them, however, she realizes that may be far from the truth. Wrestling with her upbringing, her gift, and her sense of self, Lia must make powerful choices that will affect her country... and her own destiny.
The Review: YA fantasy has fast became a favourite genre of mine over the last two years and the more fantasy books I read, the more I want to discover new books. It was only last year when I discovered The Kiss of Deception and it was an instant hit and so, I've impatiently been waiting for the release of the sequel, T
he Heart of Betrayal
and even though the wait was torture the book was so worth the wait!
After Lia was kidnapped by Kaden and taken to his home land in Venda she is now being held captive by the Vendan Komizar who looks at using her for his own game. But when Rafe followed Lia he is also being held captive and so Lia must do everything in her power to not only keep herself safe but also Rafe's. But while Lia is in Venda she realizes that not everyone is as brutal as the Venda warriors or the Komizar. It's there that she makes friends who open her eyes to the Venda way of life. But as Lia's life is ruled by the Komizar and she is trying to understand her gift she knows one thing, she must escape Venda and the only person who can help her is the one she's trying to protect the most.
I love this series and I was so pleased that The Heart of Betrayal is a worthy sequel to The Kiss of Deception. It has a slow start just like its predecessor but it's one that held my attention all the way through because of how invested I am in the characters stories. I loved that there were still chapters from the three main leads and this time we also had Pauline's chapter – small as it was – but it's a welcomed addition to the series.
I love how much Lia grows through-out this book but overall, she's still the same strong and feisty girl. Being in Venda helps her see things from a different perspective but she still knows deep down what's right and wrong. I'm glad Rafe and Kaden were still a part of the story. The love triangle in my eyes is none existent. Lia has time and time again stated her choice throughout this book – I'm just hoping she doesn't change her mind!
There so much going on in this book with Lia trying to figure out her gift, to trying to escape while trying to keep everyone she loves safe. But most importantly because this book is set in Venda we are introduced to a new country and a new way life including it's people that live there. It was a nice change from Terravin. And I enjoyed getting to know it's culture but, if I had to choose, I'd choose Terravin over Venda. See that this book took place in Venda and seems we've already saw Terravin, does this mean that we will see Dalbreak next? I hope so! I'm intrigued to know more about this country.
It's easy to say The Heart of Betrayal is a great read. It's rich in detail and well written with a fantastic set of characters and love story to root for. Me personally, I would love to see Lia come into her gift more in the next book. But otherwise I have no qualms with this book whatsoever.
Amazing! And I can't wait for more. #TEAMRAFE