"Waiting On" Wednesday is a weekly event, hosted by Jill at Breaking the Spine, that spotlights upcoming releases that we're eagerly anticipating.
Jess's WoW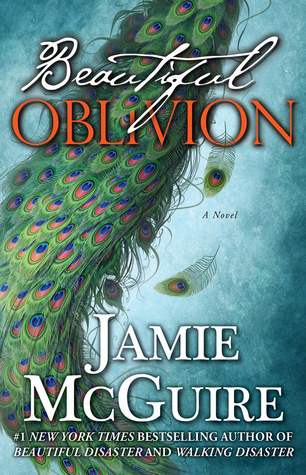 Beautiful Oblivion (Maddox Brothers #1)
by Jamie McGuire
Release Date: July 1st, 2014
The Beautiful Disaster and Walking Disaster phenomenon continues in the first heart-pounding new adult romance in The Maddox Brothers series.
Fiercely independent Camille "Cami" Camlin gladly moved on from her childhood before it was over. She has held down a job since before she could drive, and moved into her own apartment after her freshman year of college. Now tending bar at The Red Door, Cami doesn't have time for much else besides work and classes, until a trip to see her boyfriend is cancelled, leaving her with a first weekend off in almost a year.
Trenton Maddox was the king of Eastern State University, dating co-eds before he even graduated high school. His friends wanted to be him, and women wanted to tame him, but after a tragic accident turned his world upside down, Trenton leaves campus to come to grips with the crushing guilt.
Eighteen months later, Trenton is living at home with his widower father, and works full-time at a local tattoo parlor to help with the bills. Just when he thinks his life is returning to normal, he notices Cami sitting alone at a table at The Red.
As the baby sister of four rowdy brothers, Cami believes she'll have no problem keeping her new friendship with Trenton Maddox strictly platonic. But when a Maddox boy falls in love, he loves forever—even if she is the only reason their already broken family could fall apart.
In the first installment of the Maddox Brothers books, readers can experience the rush of reading Beautiful Disaster for the first time, all over again.
Jess's thoughts:
"Love Jamie. Love Travis. And now I'm pretty sure I'm goung to love and enjoy reading about his brothers. I can't wait for this book"
Donna's WoW
The Fine Art of Pretending (The Fine Art of Pretending #1)
by Rachel Harris
Release Date: September 2014
According to the guys at Fairfield Academy, there are two types of girls: the kind you hook up with, and the kind you're friends with. Seventeen-year-old Alyssa Reed is the second type. And she hates it. With just one year left to change her rank, she devises a plan to become the first type by homecoming, and she sets her sights on the perfect date—Justin Carter, Fairfield Academy's biggest hottie and most notorious player.
With 57 days until the dance, Aly launches Operation Sex Appeal and sheds her tomboy image. The only thing left is for Justin actually to notice her. Enter best friend Brandon Taylor, the school's second biggest hottie, and now Aly's pretend boyfriend. With his help, elevating from "funny friend" to "tempting vixen" is only a matter of time.
But when everything goes according to plan, the inevitable "break up" leaves their friendship in shambles, and Aly and Brandon with feelings they can't explain. And the fake couple discovers pretending can sometimes cost you the one thing you never expected to want.
Donna's thoughts:
I need a good contemporary and this sounds perfect! Releases just around my birthday too!
<
What's your "waiting on" pick this week?
Want to participate?
Grab the logo, post your own WoW entry on your blog, and leave your link at Breaking the Spine.