Posted by Melanie
Release Date: May 28th, 2013
Finished Date:
May 27th, 2014
In the third book in this beloved and "riveting" (Romantic Times) urban fantasy series, demon-friendly tiki bar owner Arcadia Bell discovers more about her own evolving, and possibly destructive, magical abilities when her bar is the target of a demonic crime wave.
Renegade mage and bartender Arcadia Bell has had a rough year, but now the door to her already unstable world is unhinging. When a citywide crime wave erupts, Cady's demon-friendly tiki bar is robbed by Earthbounds wielding surreal demonic abilities that just flat-out shouldn't exist. With the help of her devilishly delicious boyfriend, Lon Butler, Cady sets out to find the people who wronged her—but her targets aren't the only ones experiencing unnatural metamorphoses. Can Cady track down the monsters responsible before the monster inside her destroys everything—and everyone—she loves? If she survives this adventure, one thing is certain: it's last call for life as she knows it.
The Review: Binding the Shadows is the third book in the Arcadia Bell series and this time, Cady might not get out alive!
As the synopsis tells us – There's a crime wave happening in the city and it comes knocking on Cady's bars door, injuring Kar-yee in the process and for some reason… Cady couldn't do a thing. She knows the people who are doing it are Earthbounds but something isn't right with their powers – they're amplified in some way, being able to be used without the transmutation usually needed – and she's seen it before. So off Cady & Lon go, on a mission to find the punks that robbed her bar and hoping that when she finds out what is going on, it can tell her more about her changing powers too because some freaky stuff is happening to her….and she needs to know what. To top it all off, Lon's in laws are coming for the holidays and she needs to make a good impression….. let's hope she can hold it together.
This was a great addition to the series and Cady is again at her best but she is changing, evolving into something and it's strange and unsettling for her, she seems more emotional in this, like she is doubting herself a lot and showing some insecurities too - not just in her powers but in her relationship also. Lon is as supportive as ever and I liked the direction their relationship took, especially with the arrival of his ex in laws, he showed that he was in it for the long run and that she had nothing to worry about regardless of the fact that Yvonne – his ex wife – showed up too.
The storyline was really good, I liked the idea of a drug interfering with and amping up an Earthbounds power, when you see how it affects them you understand that it could have disastrous consequences for both user and victim and with the fact that it comes to Cady's bar – she was always going to get involved. I always enjoy the process of the 'missions' in these books, things are never straightforward and even though they always seem to be chasing their tail, it all comes right in the end. This is also a book where I can never guess where it's going or who done what – which is always a good thing in my opinion. Cady definitely gets herself into some scrapes in this and it is perfect to show how she is changing and her powers are evolving, it's all very strange and unusual but compelling and you want to know the answers alongside her. The action & danger grows and grows throughout the book, building towards a terrifying climax when Cady bites off more than she can chew and peoples true colours are shown. We also get Lon & Jupe's family in this which only complicates things for Cady, making her feel like she is an outsider and when Yvonne showed up, it got harder. I have to say, I loved the Cady/Yvonne showdown…. I hate confrontation between exes/new lovers but this is really not what you'd expect but shows how awesome Cady is and how much she thinks of Lon & Jupe. The ending is both happy but heartbreaking and I'm really glad I have the final book to move straight onto because with the re appearance of a couple of characters, Cady's ever changing powers and a couple of secrets to rollover into the next book…. I can't wait!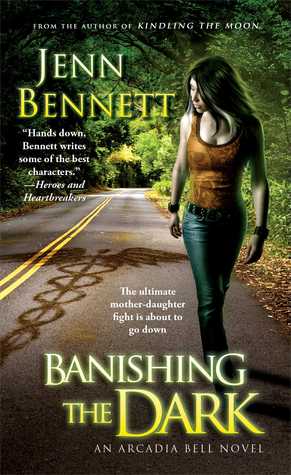 Posted by Melanie
Release Date:
May 27th, 2014
Finished Date: 23rd May, 2014
Publishers:
Pocket Books
Genre: Urban Fantasy
Source: For Review
Format: Paperback
Pages: 384
The fourth and final installment of a "riveting" (RT Book reviews) urban fantasy series about a renegade mage and the demons who love her.
Complicated does not begin to describe Arcadia Bell's life right now: unnatural magical power, another brush with death, and a murderous mother who's not only overbearing but determined to take permanent possession of Cady's body. Forced to delve deep into the mystery surrounding her own birth, Cady must uncover which evil spell her parents cast during her conception…and how to reverse it. Fast. As she and her lover Lon embark on a dangerous journey through her magical past, Lon's teenage son Jupe sneaks off for his own investigation. Each family secret they uncover is darker than the last, and Cady, who has worn many identities—Moonchild, mage, fugitive—is about to add one more to the list.
The Review: Well, I'm sad that it's over – but what an awesome end to an amazing series!
Following the huge cliffhanger that ended book 3, Cady is trying to come to terms with her new self, come to terms with an unexpected surprise and recovering from her near death beating… but things are never going to be simple for Cady because her mother is still manipulating her from the Aether, putting everyone Cady loves in danger. What does she want? It's simple really – she wants to possess Cady and live through her permanently…. meaning Cady's soul will die – and each time Cady taps into her moonchild powers, is another step into the clutches of an insane woman, hellbent on gaining power for her own ends and is prepared to sacrifice her own daughter to do just that. The only hope Cady has is to find the original spell that was used at her conception and hopefully reverse it or find out what was used so that she work out just what she is…. Leading to strangest most random road trip ever! Whilst Cady & Lon are off on their mission, Jupe has decided he won't let Cady go without a fight either – let's hope they can all uncover what Cady Needs before Enola Duval can reach her end game.
So, as I said – this was an awesome end to an amazing series, breathtaking to the very end!
I have always loved Cady's character, I love when I can connect to a character and can become invested in their lives, routing for them in their trials & tribulations, from book one she was just so capable and admirable, having been through so much and living a double life through no fault of her own. She had such a great attitude and I think through her relationships with Lon & Jupe we get to see more diversity in her – with Lon being older, the relationship is more mature and you don't feel the years between them whereas with Jupe, she can get down to his level as a teen and not only be parental but also someone he can confide in and turn too without judgement – giving us a well rounded female. I love her relationship with Lon and that it isn't what brings the drama to the story, I like a couple to complement each other and they really do, I mentioned that you can't feel the age gap and that's true, we get the same amount of passion and smexiness as ever, making it a total nonissue. I also loved that Lon & Jupe gave Cady a sense of family & belonging which is something she was lacking.
There was only ever going to be one true ultimate enemy for Cady and that is her mother, so it stands to reason that in the final book of the series, Cady will face her nemesis and finally shed light on her conception and what she has become. To do this there is a cool road trip and lots of mystery and intrigue, uncovering clues, tracking down people who don't want to be found, dealing with people who could be friends or enemies and it is a tough journey of self discovery for Cady, putting her in danger time & time again – at a time when she least needs it! – and we discover just how manipulative & evil Enola Duval is and what lengths she would go to for the ultimate power. There is something that it done to Cady in an attempt to throw her mother off some sensitive information that makes this book quite fun and also gives her & Lon's relationship a different feel which I thought was genius and brought some great moments to the book. I also loved that we got some chapters from Jupes POV and we get a good feel of how he thinks and how he feels about Cady, making him a good player in the jaw dropping conclusion. This book has it all – great characters, mystery, intrigue, danger, magic and romance – just as every book in the series has and I have loved every single one!
Thank you to Pocket Books for giving me the opportunity to review this book in exchange for an honest review.