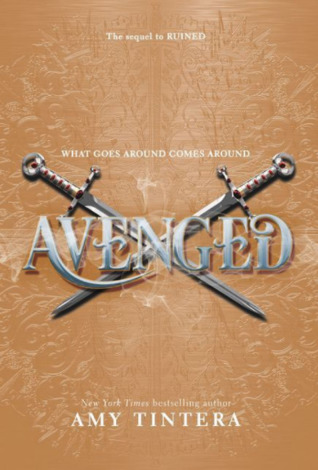 Posted by

Donna
Release Date: May 2nd, 2017
Finished Date:
July 12th, 2017
Publishers: HarperTeen
Genre:
YA, Fantasy
Source: For Review
Format: Hardback
Pages: 416
Buy:
Amazon UK
/
Amazon US / The Book Depo
A war that will fuel her. A bond that will destroy her.
Emelina Flores has come home to Ruina. After rescuing her sister, Olivia, from imprisonment in rival kingdom Lera, Em and Olivia together vow to rebuild Ruina to its former glory.
But just because Em and Olivia are out of Lera doesn't mean they are safe. Their actions over the past year have had consequences, and they are now targets of retaliation. Olivia will destroy everyone who acts against Ruina. Em isn't as sure.
Ever since Em posed as Prince Casimir's betrothed in Lera, she's started to see another side to this war. Lera may have destroyed the Ruined for decades, but Em knows that Cas is different. And now that he's taken the throne, Em believes a truce is within reach. But Olivia suspects that Em's romantic feelings for Cas are just coloring her judgement.
Em is determined to bring peace to her home. But when winning the war could mean betraying her family, she faces an impossible choice between loyalty and love. Em must stay one step ahead of her enemies—and her blood—before she's the next victim in this battle for sovereignty.
The Review:
You all know that YA fantasy has fast become my favourite genre and I'm always on the lookout for new series to try, so when I read Ruined by Amy Tintera last year I was instantly sold. With the release of Avenged - the sequel to Ruined, this series is now becoming a favourite because I enjoyed Ruined a lot but I enjoyed Avenged even more.
Emelina Flores has done the impossible. She has infiltrated her enemy's world to rescue her sister from capture. Now finally free, Em and Olivia gather up the remaining Ruina people and try to rebuild their lives. However, with Olivia hell bent on revenge and with the Lera forces breathing down their necks, Em and Olivia aren't safe yet. And so Em turns to the one person she never thought she could count on – Casimir, the Lera Prince for help while also trying to battle her feelings for him. While a war is brewing from all sides, Em must decide the right choice for her people while trying to stay true to herself in the process.
I absolutely loved this book! I was actually quite surprised because you know sequels tend to have that problem of being boring or suffering from middle book syndrome but not Avenged. Avenged was action packed from the start with the story becoming stronger and stronger with each page and the story was very unpredictable. It really was hard to work out what was going to happen next. It also has great chemistry between the characters and the romance - just enough to keep you on your toes!
I really enjoyed reading Emelina and Cas's point of views in the first book but one of the
main reasons I enjoyed Avenged more was because we also saw more from Aren and Olivia. As a reader it was great getting to know them more – okay, maybe not so much of Olivia as I really don't like her but, it was still interesting to read more about her.
I honestly cannot wait to read the next instalment when it releases. I already know how I'd like the series to end but I honestly don't know if that will or can happen. Either way, I'm eager to find out!
Thank you to Harper 360 for giving me the opportunity to review this book in exchange for an honest review.