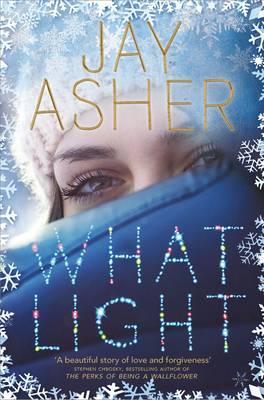 Posted by
Donna
Release Date: October 20th, 2016
Finished Date:
October 24th, 2016
Publishers: My Kinda Book
Genre:
YA, Contemporary, Romance
Source: For Review
Format: Paperback
Pages: 256
Buy:
Amazon UK
/
Amazon US / The Book Depo
From Jay Asher, #1 New York Times bestselling author of Thirteen Reasons Why, comes a romance that will break your heart, but soon have you believing again. . . .
Sierra's family runs a Christmas tree farm in Oregon—it's a bucolic setting for a girl to grow up in, except that every year, they pack up and move to California to set up their Christmas tree lot for the season. So Sierra lives two lives: her life in Oregon and her life at Christmas. And leaving one always means missing the other.
Until this particular Christmas, when Sierra meets Caleb, and one life eclipses the other.
By reputation, Caleb is not your perfect guy: years ago, he made an enormous mistake and has been paying for it ever since. But Sierra sees beyond Caleb's past and becomes determined to help him find forgiveness and, maybe, redemption. As disapproval, misconceptions, and suspicions swirl around them, Caleb and Sierra discover the one thing that transcends all else: true love.
What Light is a love story that's moving and life-affirming and completely unforgettable.
The Review:
I'm always on the lookout for festive reads and while I've read a few I wouldn't say any of them have left a great impression on me so far. However, if you are looking for the perfect festive read then What Light is definitely the book I would recommend you read this Christmas.
The story follows Sierra and her family who run a Christmas tree farm in Oregon. However every Christmas they have to move all the Christmas tree's to California where their lot is set up for the Christmas season. So every year they pack all their stuff up and try to sell as many tress as possible before going back home. Sierra tries to never get attached to anyone in California because what would be the point – she'll be going back home to Oregon in a few weeks. But when she meets Caleb – the boy with a troubled past – Sierra can't help but want to break her rule of getting close to someone in California.
This was the first book I'd read by author Jay Asher and honestly, once I started it was so hard to put it down that I actually read it in two sittings. It's just the type of story you can cuddle up with on a winter day with a cup of hot chocolate and mini marshmallows and just get lost in the character's world.
Sierra is a lovely character. She's very sweet and always tries to be honest with people. She's a very reliable character and doesn't sway from what she believes in even if that means getting in trouble with her parents. But ultimately she tries to follow her heart and do what is right for her. Now Caleb is such a swoon-worthy character however he does come with baggage that unfortunately effects the way people treat him or see him. But deep down he tries to give the less fortunate families something to look forward to at Christmas and that's by buying them Christmas trees. I thought this was such a lovely idea and very thoughtful even if some people didn't appreciate it at times. I guess you can call Caleb a little misunderstood. What I love was how Sierra didn't listen to idle gossip – she took Caleb at face value and trusted her own feelings. And the results of that were pretty amazing. And I also loved that the book ended with good feelings – even though it was a little open – it still left me believing these two characters got the same happy ending.
In all, What Light is definitely this year's Christmas book to read! Go buy it!
Thank you to My Kinda Book for giving me the opportunity to review this book in exchange for an honest review.