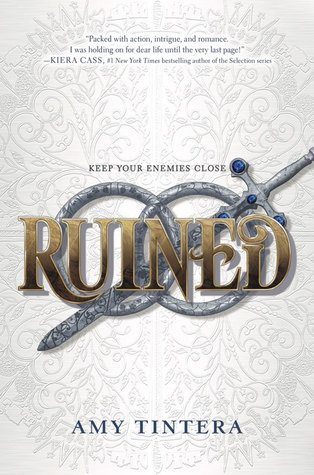 Posted by
Donna
Release Date: May 3rd, 2016
Finished Date:
September 29th, 2016
Publishers: HarperTeen
Genre:
YA, Fantasy
Source: For Review
Format: ARC
Pages: 368
Buy:
Amazon UK
/
Amazon US / The Book Depo
A revenge that will consume her. A love that will ruin her.
Emelina Flores has nothing. Her home in Ruina has been ravaged by war. She lacks the powers of her fellow Ruined. Worst of all, she witnessed her parents' brutal murders and watched helplessly as her sister, Olivia, was kidnapped.
But because Em has nothing, she has nothing to lose. Driven by a blind desire for revenge, Em sets off on a dangerous journey to the enemy kingdom of Lera. Somewhere within Lera's borders, Em hopes to find Olivia. But in order to find her, Em must infiltrate the royal family.
In a brilliant, elaborate plan of deception and murder, Em marries Prince Casimir, next in line to take Lera's throne. If anyone in Lera discovers Em is not Casimir's true betrothed, Em will be executed on the spot. But it's the only way to salvage Em's kingdom and what is left of her family.
Em is determined to succeed, but the closer she gets to the prince, the more she questions her mission. Em's rage-filled heart begins to soften. But with her life—and her family—on the line, love could be Em's deadliest mistake.
The Review:
This is the second book I've read by author Amy Tintera, the first being her YA sci-fi book Rebooted and now YA fantasy book Ruined. I actually preferred Ruined more because it's a fantasy book and I just can't get enough of fantasy series. It also helps that Ruined was one of them books that you just can't help like. It's an easy read, fast-paced and very intriguing. I could easily have read this in one or two sittings if I didn't have work commitments.
The story is about Emelina Flores who has watched family, friends and community killed by a neighbouring kingdom all because Emelina's people have magic and the other kingdoms see them as a threat. To some extent that is true but most of the Ruined are looking for a peaceful life, however now there is only a small number left and on the run. Em's sister – the next ruler of the Ruined has been captured by the Kingdom of Lera and Em is determined to get her back no matter the cost – even if that means marrying the Prince of Lera while pretending to be someone else. But one thing Em wasn't expecting from the prince is his kindness and willingness to see that not all the Ruined are bad people. Soon Em's feelings start clouding her actions but her plans are already set in place and it's too late to change what's to come.
I really liked Ruined. It's a good introduction to a series that I believe will get stronger and stronger. I did felt a time the story lagged in parts but I kept going because I was interested in the characters enough to carry. And I'm glad I did carry on. The story was full of suspense and very enjoyable and I'm definitely interested in reading more about the series with the release of the next book.
The romance between Em and Cas is predictable and at times I found myself rolling my eyes but still I couldn't help but love it. It's a sweet romance. With them being from two different kingdoms it's hard to predict what will happen but of course I'm rooting for a happy ending for them.
In all, Ruined was an enjoyable book and I'll look forward to reading more when the sequel Avenged is released.
Thank you to HarperTeen for giving me the opportunity to review this book in exchange for an honest review.