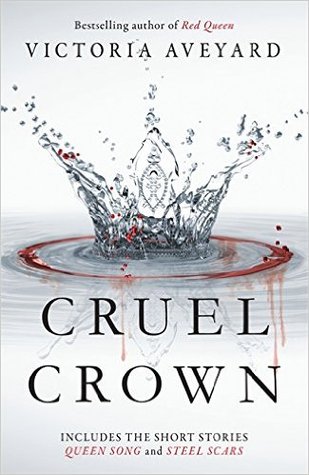 Posted by
Donna
Release Date:
April 21st, 2016
Finished Date: July 27th
, 2016
Publishers:
Orion
Genre:
YA,

Dystopia
Source: For Review
Format:
Pap

erback
Pages: 208
Buy:
Amazon UK
/
Amazon US / Book Depo
Two women on either side of the Silver and Red divide tell the stories no one else knows.
Discover the truth of Norta's bloody past in these two revealing prequels to #1 New York Times bestseller Red Queen.
Queen Song
Queen Coriane, first wife of King Tiberias, keeps a secret diary—how else can she ensure that no one at the palace will use her thoughts against her? Coriane recounts her heady courtship with the crown prince, the birth of a new prince, Cal, and the potentially deadly challenges that lay ahead for her in royal life.
Steel Scars
Diana Farley was raised to be strong, but being tasked with planting the seeds of rebellion in Norta is a tougher job than expected. As she travels the land recruiting black market traders, smugglers, and extremists for her first attempt at an attack on the capital, she stumbles upon a connection that may prove to be the key to the entire operation—Mare Barrow.
Plus a Glass Sword sneak peek!
The Review:
Cruel Crown
features two prequels to Victoria Aveyard's Red Queen series. I'd recommend to read them in between Red Queen and Glass Sword. I've read it after both books but I think it would have interested me more if I'd read it while awaiting the release of Glass Sword because it has an exciting sneek peak at Glass Sword included too. Both novella's together are only around 150 pages so this is a very quick read.
Queen Song: Ever since I read Red Queen I've been interested to read more about Queen Coriane who is Cal's Mother. However unfortunately - and this isn't a spoiler - Coriane isn't in the remainder of the series because she died years ago but with her being such a big part of Cal and Julian's lives - my two favourite characters - it's not surprise why I'd want to get to know her more. If I'm honest, I was expecting this to be about her life as a Queen, however it was only a small part because for the most of the story is focused on her life before becoming Queen and, in all honestly, her life was pretty sad. But this doesn't stop Coriane being interesting and she's such a sweet girl. I was just hoping that the author would give us more information at her later days in life rather than before. It was still really good to see how her and the King fell in love, him them only being a Prince. And it was of course nice to see that their feelings for one another were real and not forced by the Queenstrial which is how the heir to the throne is normally picked his bride. I really enjoyed Coriane's story but I only wish it was longer.
Steel Scars: I'm not sure what to say about this one. I didn't really like it which was disappointing because I was looking forward to reading more about the red side of the story. Some familiar faces pop up and while that's great not much really happens in the novella and with this one being nearly 100 pages it did start to drag. Captain Farley is an interesting character but this novella didn't add anything to her story. We don't get to know her better.
In all, Cruel Crown would have be an interesting read with just the Queen Song's novella but some fans may like Steel Scars. It's a nice little bonus to add to the collection of books though even if one novella is much stronger than the other.
Thanks to Orion Publishing for giving me the opportunity to review this book in exchange for an honest review.