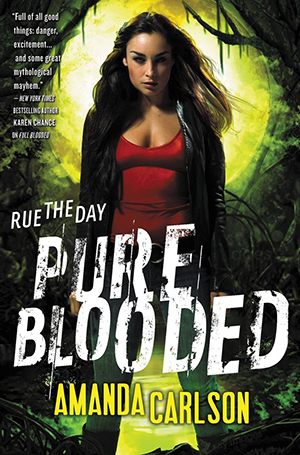 Posted by Melanie
Release Date: June 16th, 2015
Finished Date:
June 19th, 2015
Publishers:
Orbit
Genre:
Urban Fantasy
Source: For Review
Format: eARC
Jessica arrives back from the Underworld to find her father embroiled in a battle against the Made wolves. She and her crew drop everything to join them.
Once she arrives, the threat is after her. Jessica is lured into danger when her adversary takes something precious from her.
With help from an unlikely source, Jessica goes up against her creator in a battle that will decide the path of everyone involved. She must war against a new set of foes, ones who could not only steal her power, but could take her soul as well.
The Review: Pure Blooded may be the fifth book in the series but it is still as awesome as book one and a series that is one of my favourites.
Following book four Jessica has some problems; she has changed the course of fate and something that should have happened in the future will no longer be happening, so fate has it in for her. Her father has left their territory in pursuit of the rogue pack and is currently camped in the swamp lands of Florida and is at a stalemate with the enemy so, it's up to Jessica, Rourke and co. to fly down there and help out. The thing is… danger is coming for Jess in every direction and her enemies are not above using those closest to her to achieve their goals. Jessica is in for the fight of her life.
This is another fabulous read in the Jessica McClain series and it is a series I have championed from the very beginning. I love everything about it – the characters, the different species, the world – I also love how it straddles the lines of Urban Fantasy and straight out fantasy and I always wait for the next book with baited breath. Fifth book in and it is still awesome, filled with danger, death threats, action, magic and romance with our heroine stuck right in the middle. Jessica became something special in the last book, more so than previous books and now the word is out – people want her and want her power. She has matured a lot but also has new powers to break in so it's like watching her get to grips with her shifting abilities again. One of the things I love about those she surrounds herself with is that they are loyal to a fault and she is just as loyal to them and all are willing to die for each other. At the heart of it all, Jessica is pack so it wasn't a long shot to think that she would head straight back into danger for them and that's exactly what she does.
I really liked the change of scenery again, the author isn't afraid to use different settings that tie in so well to the story and as you can imagine with Florida being a multi-cultural state, you are going to get different belief systems that include magic. I have to say, the enemy in this one looked to be unwinnable and possesses immense power but it went so well with the progression of Jessica's character. The things that happened gave the story an eerie, mysterious and evil feel and it was very atmospheric and also stretched the imagination a bit- but doesn't all hocus pocus? She has help from a couple of sources and both will make you smile but you will always understand the danger they're in and all won't come away unscathed. It will take everything she has…. But she will still need more as fate catches up to her and decides that the only way to right her wrongs, is if she dies! So she is straight out of the frying pan and straight into the fire. You think the last enemy was bad? Think again!! This is brutal, it is deadly and when fate wants you dead – how do you survive?
Again Jess has a fabulous supporting cast, they all champion her and non-more so than Rourke who will be with her every step of the way. She will have to call on each and every one to overcome what fate has in store. I really feel for Jess and Rourke, no sooner had they found each other then all hell broke loose! They've had to deal with sadistic Goddesses, Vampire Queens with agendas and Jessica's nearly fatal trip to hell so it's totally understandable that Rourke be super protective of her –even if she can look after herself- but I love this side to him, he is a primal man and even if your mate is capable, it's hard to push aside those instincts. I love how their relationship is developing, their magic is evening up and their love adds a balm to the deadly situations they find themselves in. To be honest, I don't think anyone could be the man/shifter that Jess needs other than Rourke and his beast.
To sum it up – This was another action packed adventure for Jessica, Rourke and the gang, I love where the plot is headed, I love the progression of the characters even the secondary characters, I like the new characters that were introduced, I liked some of the reveals that were shared and I'm excited to see where it will go next…. I'm thinking the missing witches need finding ;)
Thank you to Orbit
for giving me the opportunity to review this book in exchange for an honest review.