"Waiting On" Wednesday is a weekly event, hosted by Jill at Breaking the Spine, that spotlights upcoming releases that we're eagerly anticipating.
Donna's WoW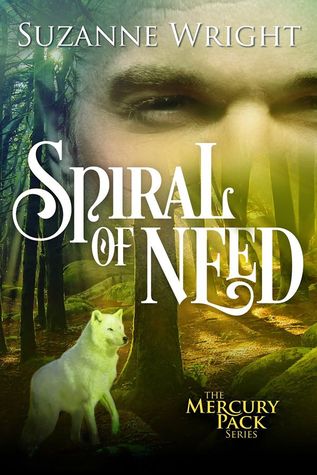 Spiral of Need (The Mercury Pack #1)
by Suzanne Wright
Release Date: September 29th

, 2015
Ally Marshall isn't just a wolf shifter — she's a Seer.
But a girl doesn't exactly need special powers to know that Derren Hudson despises her entire kind. Disdain practically rolls off the Beta of the Mercury Pack . . . disdain mixed with a healthy dose of desire. And no matter how much the ruggedly handsome male appeals to her, this is one call of the wild she's determined to ignore.
After one betrayal too many, Derren doesn't have much use for Seers — except for Ally.
Forced into acting as her protector, he finds himself intensely and passionately drawn to the woman who incites his primal instinct to claim.
And when enemies target the pack, Ally's gift may be just what the Mercury Pack needs.
Can he put his distrust aside, or will he force himself to turn his back on the one woman who makes his inner beast howl?
Donna's thoughts: Suzanne Wright! I need more books from her. She's my favourite adult paranormal writer for shifters and I'm just dying this new series.
Melanie's WoW
The Drafter (The Peri Reed Chronicles #1)
Release Date: September 1st
, 2015
Detroit 2030. Double-crossed by the person she loved and betrayed by the covert government organization that trained her to use her body as a weapon, Peri Reed is a renegade on the run.

Don't forgive and never forget has always been Peri's creed. But her day job makes it difficult: she is a drafter, possessed of a rare, invaluable skill for altering time, yet destined to forget both the history she changed and the history she rewrote.

When Peri discovers her name on a list of corrupt operatives, she realizes that her own life has been manipulated by the agency. She joins forces with a mysterious rogue soldier in a deadly race to piece together the truth about her final task, unable to trust even herself.
Melanie's thoughts:
I loved her 'The Hollows' series and am really curious to see what she has come up with following the completion of it.
<
What's your "waiting on" pick this week?
Want to participate?
Grab the logo, post your own WoW entry on your blog, and leave your link at Breaking the Spine.