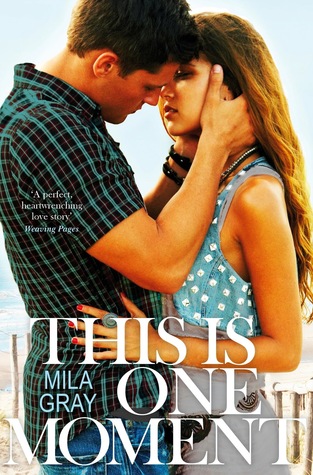 Posted by Donna
Release Date: September 10th, 2015
Finished Date:
August 2nd, 2015
Publishers:
Pan Macmillian
Genre:
N

A, Contemporary, Romance
Source: For Review
Format: eARC
Didi Monroe's waited her whole life for the type of romance you see in the movies, so when Hollywood heartthrob Zac Ridgemont sweeps her off her feet, Didi believes she might finally have met the one.

While Zac's away filming for the summer, Didi begins her internship at a military hospital in California. There, she meets wounded Marine Noel Walker.

Frustrated on the outside and broken on the inside, Walker's a pain-in-the-ass patient who refuses all help.

Yet Didi can't help but be drawn to him, and though he's strictly out of bounds it soon becomes impossible to ignore the sparks flying between them.

As the attraction simmers into dangerous territory, Didi finds herself falling hard for a man she knows is going to break her heart. Because Walker doesn't believe in love or happy ever afters. So what possible future can there be?

Then tragedy hits, shattering both their worlds, and Didi is forced to choose between fighting for love or merely falling for the illusion of it.
The Review: Being a huge fan of Mila Gray/Sarah Alderson I find myself always looking forward to a new release from her and waiting for This is One Moment was no different, especially when I found out it was centered around Didi.
Didi whom we first meet in Come Back to Me has always been a romantic at heart. So when she meets Hollywood heartthrob Zac Ridgemont, Didi believes she's possibly found the one she's supposed to spend her life with. It's not until Didi beings her new internship at a military hospital that she meets Noel Walker - a marine with a wounded body and heart. Didi find some connection to Noel but he's struggling to come to terms with his new life. But with Zac in the picture and Noel being her patient, can Didi choose between her love for each guy?
This Is One Moment is a great follow-up to Come Back to Me. Although it can be read as a standalone because it's about a different set of characters I would still always advice to start with Come Back to Me because you can get the back story on Didi more and see what happened before. I've always been a fan of Didi so I'm pleased she finally got her story told.
Didi is a great character. She's caring, honest and has a great soul. Being a romantic at heart she's always on the lookout for love and it's kind of typical it comes at the same time. For me there was simply no contest between Zac and Noel. The more I read about Hollywood heartthrob the more the characters become predictable and boring - this is how I felt about Zac. I didn't like him. I didn't want to like him because I wanted Didi to be with someone more down to earth and that person was Noel - even despite the problems he had. It's understandable that someone that has come back from war would be struggling with the events that happened and with any injuries that they had have. Noel's character was written perfectly. He's not perfect by any means and he has struggles and mood swings, but I felt his character was written well. He and Didi have a slow burning relationship that comes with time and patience and Didi was fantastic with Noel. I really liked the two together!
The story has a few twists that will keep you guessing but it's also a story about hope, love and loss that will easily capture your heart. Well done Mila Gray for another fantastic story!
Thank you to Mila Gray & Pan Macmilliam for giving me the opportunity to review this book in exchange for an honest review.
Mila Gray's thoughts on the cover for This is One Moment.
I was really worried before they sent me the cover design for This Is One Moment because I wasn't sure it could ever live up to the cover for Come Back To Me which was so amazing and which received a lot of love. So I was very nervous when they sent it through to me and opened the email with a sense of trepidation. But I was instantly relieved.
I love how this cover riffs off Come Back To Me, with a similar style and tone, but also has its own strength. Both book covers brilliantly depict the different characters. In this case Walker – who is a Marine. He's dark haired, gruff, tall, physically imposing. And Didi, the girl who falls in love with him.
I think what we were striving for with both covers was a sense of illicit and steaming hot passion that's underscored by tenderness and romance. The books are undeniably hot but I'm much more interested in the intricacies of love than in portraying sex without emotion and I wanted that to come across in the covers. They also wanted to make it feel very summery because both books are set in California.
Probably the one thing that doesn't come across though is the level of heartbreak and loss. Both books are much more than light summer romances – they both tackle quite hard material – death, war, trauma, grief, mental illness – as well as being about first love, relationships, sex and family.
I hope the covers and the blurbs are enough to make people pick the books up and read them!
Mila Gray is the pen name for Sarah Alderson, author of Hunting Lila, Losing Lila, The Sound, Fated and Out of Control.
Originally from London she has lived in Bali for the last four years with her husband and daughter.
As well as writing young adult fiction under the name Sarah Alderson and adult fiction under the name Mila Gray, she also writes screenplays.
You can find out more at www.milagray.com and on facebook: www.facebook.com/sarahjalderson
a Rafflecopter giveaway