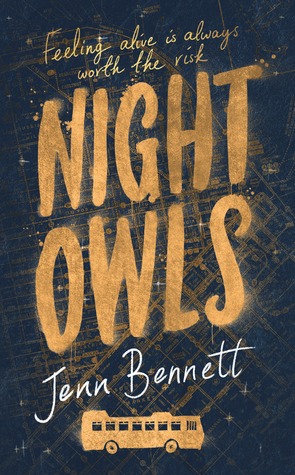 Posted by Donna
Release Date: August 13th, 2015
Finished Date:
July 16th, 2015
Publishers:
Simon & Schuster UK
Genre:
YA, Contemporary, Romance
Source: For Review
Format: ARC
Since school had let out in May, gold graffiti had been popping up around San Francisco. Single words painted in enormous golden letters appeared on bridges and building fronts. Not semi-illegible, angry gang tags, but beautifully executed fonts done by someone with talent and skill...
Meeting Jack on the Owl—San Francisco's night bus—turns Beatrix's world upside down. Jack is charming, wildly attractive...and possibly one of San Francisco's most notorious graffiti artists.
On midnight rides and city rooftops, Beatrix begins to see who this enigmatic boy really is. But Jack is hiding much more - and can she uncover the truth that leaves him so wounded?
The Review: What a super cute read! Seriously this book left me with the biggest smile on my face!
After missing her normal bus Beatrix has no other choice but to catch the dreaded Owl night bus that everyone hates. So when she meets Jack - a gorgeous guy she seems to click with - it definitely made the journey worthwhile. But as her and Jack are about to part ways, Bex discovers something about Jack when a gold can of spray paint rolls out of his bag. Surely he can't be the one leaving graffiti tags all over San Francisco? Bex is compelled to know more about Jack and so when she finds him again and she finds out he's also been looking for her, they embark on a journey of discovering each other and their love of art.
I hadn't heard of Night Owls until it arrived through my letterbox but as soon as I read the synopsis I just knew it was one I had to read. It sounded slightly similar to Graffiti Moon by Cath Crowley and I adored that book, so I definitely had high hopes for this and I'm pleased to say Jenn Bennett doesn't disappoint one bit!
There's just something about this book that once you start you simply don't want to put it down. It's almost magical and the words just seem to flow right off the pages. It's well written and I loved the mixture of fun and serious moments that was added. It gave the story the right blend and kept my emotions going up and down like a roller coaster.
The characters are quirky and super cute. They're also both very unique. While they have several things in common the biggest one is their love of art and so art is the main feature of this book and I really enjoyed it because both of the characters love art in their own way and they express it in their own way. I really loved the connection between Bex and Jack. It was an instant connection but not insta-love - I loved that. It made me appreciate their story more. They banter back and forth which is so entertaining to read. And even some of their later scenes together are adorable too - swoon-worthy even. Jack is perfect! I don't think I've swooned over a character like him in a long time! I smiled a lot during this book. It's impossible not too.
In all, Night Owls is definitely a special read and it's one I will definitely be recommending to all of my book friends!
Thank you to Simon & Schuster UK for giving me the opportunity to review this book in exchange for an honest review.
Today, just for you, dearest reader, I pulled twelve random books from my bookshelf. You'll find them here, as seen with my handsome pug, Iorek. (Don't trust that sweet face, for he is truly wicked and most evil. And yes, he was named after one of my favorite literary characters, Iorek Byrnison, the armoured bear from the His Dark Materials series.) Some of the books in my stack are related to my YA debut, Night Owls, and some are not. From the top of the stack to bottom, here are the books:
Dry wit. Hilarious stuff. My character, Bex, mentions the Addams Family. (People at school call her Morticia because she likes to draw anatomy, and therefore assume she must be gruesome. She's not.)
Infinite City
, Rebecca Solnit
This is a terrific compendium of San Francisco atlases. A wonderful Bay Area author friend, A.J. Larrieu, gave this to me. I could stare at it for hours.
Colored Pencil Bible
, Alyona Nickleson
My first love is art, and I do a lot of colored pencil drawings. This is a great resource.
Reading Egyptian Art
, Richard H. Wilkinson
I'm a fanatic about Ancient Egypt and have been since I was a wee tike.
Struwwelpeter
, Heinrich Hoffmann
I was born in Germany (my father was in the U.S. army and was stationed near Frankfurt when my Swedish mother was knocked up with me), and this book of cautionary tales for children scared the bejesus out me when I was a kid.
Last Train to Memphis: The Rise of Elvis Presley
, Peter Guralnick
In my book, my hero, Jack is obsessed with rockabilly music. Cool, young Elvis (we'll forget about bloated, old bedazzled Elvis for now) wasn't just a brilliant musician, he also had a great pompadour.
Harry Potter and the Deathly Hallows
, J.K. Rowling
Yes, I have them all. Yes, I own all the movies. No, I have never dressed up as Luna Lovegood, I mean, uh…
Perfect Chemistry
, Simone Elkeles
Man, I loved this YA romance. The Latino hero is total swoons.
Graceling
, Kristen Cashore
One of my fave romantic YA fantasy books. Only, I wish the ending had turned out differently. (Look,

I'm a hopeless romantic, okay?)
Howl's Moving Castle
, Diana Wynne Jones
Love, love, love this book. Total charmer. Old favorite of mine.
Shiver
, Maggie Stiefvater
She's brilliant. I like her Raven Cycle the best.
I write books for adults about the Roaring Twenties. I'm mad about that era, so I have a whole collection of books about it, if you ever need to borrow one.