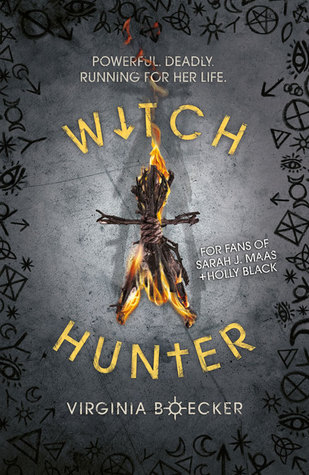 Posted by Donna
Release Date: June 2nd, 2015
Finished Date:
July 14th, 2015
Publishers:
Orchard Books
Genre:
YA, Fantasy
Source: For Review
Format: Paperback
Witches, watch out... Half Bad meets Kill Bill in this incredible new supernatural series.
Sixteen-year-old Elizabeth Grey doesn't look dangerous. A tiny, blonde, wisp of a girl shouldn't know how to poison a wizard and make it look like an accident. Or take out ten necromancers with a single sword and a bag of salt. Or kill a man using only her thumb. But things are not always as they appear. Elizabeth is one of the best witch hunters in Anglia and a member of the king's elite guard, devoted to rooting out witchcraft and bringing those who practice it to justice. And in Anglia, the price of justice is high: death by burning.
When Elizabeth is accused of being a witch herself, she's arrested and thrown in prison. The king declares her a traitor and her life is all but forfeit. With just hours before she's to die at the stake, Elizabeth gets a visitor - Nicholas Perevil, the most powerful wizard in Anglia. He offers her a deal: he will free her from prison and save her from execution if she will track down the wizard who laid a deadly curse on him.
As Elizabeth uncovers the horrifying facts about Nicholas's curse and the unwitting role she played in its creation, she is forced to redefine the differences between right and wrong, friends and enemies, love and hate... and life and death.
The first book in an incredible new series set in a fantastical medieval world.
The Review: Elizabeth Grey is sixteen-year witch hunter and she revels her job. She finds nothing more satisfying that bringing the witches to justice by capturing them and then turning them over to the King. But when Elizabeth is put in a tricky situation that she can't say no to, she finds herself turning to the witches that she's supposed to capture. However by turning to the witches, she's accused of witch craft herself and is sentenced to death by burning – the most gruesome death of all. But hours just before her death, she's rescued by one of the strongest and most powerful wizards in Anglia because he needs her help. As Elizabeth makes a deal with the wizard she soon discovers that her life has been based on lies and the witches might not be the enemy after all.
Witch Hunter is a story that immediately drew my attention from when I first heard about it and once I started, I found myself quickly interested. However, once I got about halfway through I did notice my attention started to wavier.
I enjoyed how the story started, I was intrigued by Elizabeth's struggles and what she goes through with the king but as the story progresses, I found that the story wasn't explored as much as I would have liked. This part of the story is brushed under the rug and I found that disappointing.
I also liked most of the characters introductions but again, once I got to halfway I felt they're journey was just this big race. Running around looking for this item they needed in the dark. The slow pace of the story was also an issue for me also. I just wanted the story to get going and it wasn't really until the last few chapters that some action happens but at that point, I wasn't completely invested in the story.
This story wasn't all bad though. I did really like Elizabeth and some of the secondary characters. Some of their banter back and forth was entertaining. And the romance was a slow burning one – one that you slowly grew to like. There were a few twists to the story that I didn't see coming, but even with this, I don't think it was enough for me to want to read more.
2.5 stars!
Thank you to Orchard books for giving me the opportunity to review this in exchange for an honest review.