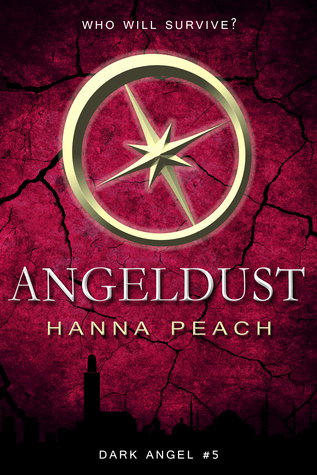 Posted by Melanie
Release Date: June 30th, 2015
Finished Date:
June 30th, 2015
Publishers:
Self Published
Genre:
Urban Fantasy
Source: For Review
Format: eARC
The thrilling conclusion to the Dark Angel series…
Everything about Michael's dark plan has been hidden – until now. On an island off the coast of Egypt, a fourth Seraphim city has been discovered; a city that doesn't appear on any Seraphim map. This city is hidden, the air smells of blood and there is something very, very wrong with the inhabitants.
Back at Castle Speranza, while Alyx is off uncovering the secret of Raphael's charm, someone will betray her in the worst possible way…
Michael now has everything he needs. Will Alyx be able to stop Michael? Or could this be the end of the world as we know it?

The Review: Angeldust is the final book in the Dark Angel series and what an ending!
There were quite a few reveals in the last book and you'd be forgiven for thinking there was nothing more to be found…. But you'd be wrong! As the synopsis tells us; Michael has a secret island and he's been up to no good again, this time with the warriors as he builds his own army. He nearly has all of the puzzle pieces to put his plan into action but he is missing a couple of things – a charm hidden by Raphael and of course Israel – without those, his plan is doomed to fail.
Alyx is the protector of both pieces that Michael needs, she has protected and loved Israel since the beginning and has left him safe at Castle Speranza with his new found father and the rest of the Free Thinkers, so that she can go on a quest to find Raphael's charm in the most unlikely of places….. but when she is betrayed by one she trusted with her life, it becomes a race against time to stop Michael's plans and she may need help from an unlikely source. When the odds are stacked against you and there's not much hope….who do you trust? And will love conquer all?
I really loved this finale and the progression of the story and characters has been a pleasure to read. Alyx really came into her own here and became what she needed to be and did what had to be done to not only save the human race & Earth but also to save Israel – the love of her life. The wedge was felt between Alyx, Jordan and Israel following the events of book four and it was time to put the love triangle to rest once and for all. It's a shame everything had to come between them because Jordan was a great, funny and likable character but felt really subdued in this and it really affected the rapport he had with Alyx, changing their relationship and lessening what they had been through and the bond they shared together. Israel had always been leery of Jordan around Alyx so it looks like he should be happy now.
The story was definitely the focal point here now that most of the relationship drama is done. We have Michael building a secret army on a secret island, there's something different about this lot though and makes you realise just how long plans have been in motion. We really get to see Michael at his most evil, he will stop at nothing to make his plans happen and how do you make someone see reason when they believe that what they're doing is for the good of all? You would think that he would have no more tricks up his sleeve…but you would be wrong and that just makes for more excitement to the story.
I loved that Alyx got to go on another quest, I love these type of threads where the character has to follow clues and hunt stuff down. Some of the events that happen in this part really give you a sense of urgency and desperation plus it's like Alyx needed to do it, to go through some sort of self awareness so she is ready for what is to come. It also makes her see people for who they really are and it's hit and miss as to whether she will make it out alive. Whilst this is going on, preparations are underway at the castle for the inevitable but just as Alyx has been betrayed, so have the residents of the castle and the losses will be huge.
All of this will lead to the ultimate showdown between Michael's side and Alyx's side. It's not all cut and dried though because there are still a few twists to be found. People have roles, a prophecy was made and it all seemed set in stone…. But Alyx had plans of her own and it was hope that kept everyone going – and I know I was feeling it! The story was filled with action, battles, plans, secrets, a quest, alliances, betrayals, death, heartache & despair but also hope, family, love, soul mates and HEA for more than one of our characters. I have thoroughly enjoyed this series, it's been consistently great with an engaging plot and a great set of characters set in an original world that is well written and really grabs a readers' interest – I'll be looking out for more from this author.
Thank you to Hanna Peach for giving me the opportunity to review this book in exchange for an honest review.