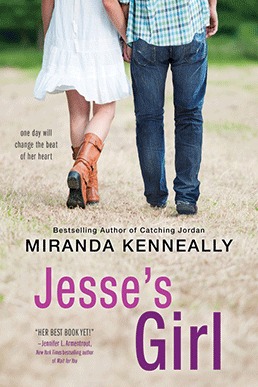 Posted by Donna
Release Date: July 7th, 2015
Finished Date:
April 29th, 2015
Publishers:
Sourcebooks Fire
Genre:
YA
, Contemporary, Romance
Source: For Review
Format: eARC
Practice Makes Perfect.
Everyone at Hundred Oaks High knows that career mentoring day is a joke. So when Maya Henry said she wanted to be a rock star, she never imagined she'd get to shadow *the* Jesse Scott, Nashville's teen idol.
But spending the day with Jesse is far from a dream come true. He's as gorgeous as his music, but seeing all that he's accomplished is just a reminder of everything Maya's lost: her trust, her boyfriend, their band, and any chance to play the music she craves. Not to mention that Jesse's pushy and opinionated. He made it on his own, and he thinks Maya's playing back up to other people's dreams. Does she have what it takes to follow her heart—and go solo?
The Review: Maya Henry has always wanted to be a rock star. So when career mentoring day rolls around she gets the chance to shadow Jesse Scott – one of Nashville's biggest teen idols. But when Maya finally meets Jesse Scott he isn't what she expected especially when he announces that he's planning on retiring the music business and Maya can't fathom why because she wants what he has and thinks he's crazy for giving it all up. But Jesse pushes Maya to want more from her music, even with no band, he believes she has the talent to make it big if only Maya will consider going solo…. Can Maya really make her dreams come true?
I love Miranda Kenneally's books and I'm so pleased that the Hundred Oak series is still going strong. Jesse's Girl is book 6 in the series and while I didn't enjoy this one as much as the last few, it was still a fabulous read.
As I mentioned I didn't quite enjoy this one as much as the previous books but that's down the own personal preference because I'm not a huge fan of the music star stories where the main character tries out for a music show or the main character falls in love with a music star. I knew that going into this story but it's Miranda Kenneally so I couldn't miss out on her book. And even though I didn't enjoy the music background as much as I did previous books where it's featured baseball or running etc, I still thought Miranda wrote a good story and I still enjoyed it.
Jesse and Maya were likable characters – yes even Jesse once we get to know him. There each had their own style – Jesse liked country and Maya is a little punk rocker. But Jesse really opens Maya's eyes up to trying new and different styles and I liked that. They had a good connection once they got over the introduction parts and the humour between them made for some entertaining reading. I did enjoy the moments they had together. They were touching and sweet. Their romance was cute. It's more a hate-love relationship rather than insta-love which is always good. I loved the support system that Maya had around her and how much she started to support Jesse whom didn't really have much of a support system. For me though, I didn't like Jesse as much as I thought I should. He was an okay character but he was pretty predictable at times. I wish I'd liked him more.
In all, Jesse's Girl is still a well written story that is quite fun and entertaining. It may not have been a favourite of mine but I still can't wait for more from this author.
Thank you to Sourcebooks Fire
for giving me the opportunity to review this book in exchange for an honest review.
Growing up in Tennessee, Miranda Kenneally dreamed of becoming an Atlanta Brave, a country singer (cliché!), or a UN interpreter. Instead she writes, and works for the State Department in Washington, D.C., where George W. Bush once used her shoulder as an armrest. Miranda loves Twitter, Star Trek and her husband.