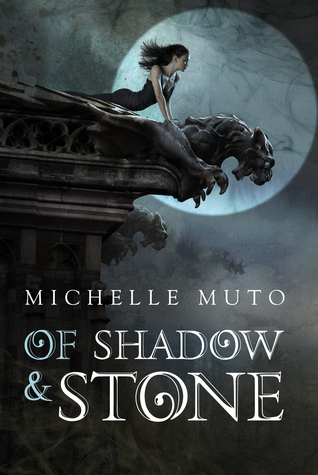 Posted by Melanie
Release Date: February 24th, 2015
Finished Date:
March 2nd, 2015
Publishers:
Self Published
Genre:
YA, Fantasy, Romance
Source: For Review
Format: eARC
Pages: 291
Gargoyles were created centuries ago to protect mankind, but something went horribly wrong. Now only the sentinel—a mortal chosen to control the stone beasts—stands between them and their human prey.
When the latest sentinel is killed, Kate Mercer is destined to take his place. But Kate has enough going on in her life—like a skyrocketing film career, a delusional ex-boyfriend, and a crazed stalker who will stop at nothing to get to her. But the powers that be have decided, and Kate is transported to Shadow Wood, a mysterious castle that serves as a sanctuary for the supernatural. Although beautiful, Shadow Wood is no safe place for a mere mortal. Yet Kate is drawn not only to the gargoyles but also to Ian McGuire, a charming novelist who might be in the greatest danger of all.
As Kate decides whether to accept the most perilous role of her life, she discovers there are more secrets than answers within the castle's walls. Her survival and Ian's depend on her ability to master the gargoyles before time runs out. Is fate really cast in stone?
The Review: I had high hopes for Of Shadow and Stone and ended up really disappointed by it. I loved the idea of the book – a sort of sanctuary exists for otherworld creatures, Shadow Wood and it is ran by the enigmatic Declan. He hosts all kinds of species but it is the Gargoyles that take someone to watch over them, to keep them in check because they have a very black and white version of right and wrong and when punishment comes in the form of death…. They need a Sentinel. The previous Sentinel is dead and gone, the gargoyles are getting restless and Declan is waiting for the one he believes will be next. This turns out to be actress Kate Mercer. Kate has been dreaming of Shadow Wood often, little does she know that she actually visits there in dreams and the bonding process has begun between her and the Gargoyles but it's only when she connects with Declan that things start to bleed over in her real life. She starts seeing through the Gargoyles eyes, they share thoughts and feelings and she sees the pleasure they take in doling out justice to wrong doers. Kate's home life isn't that great either, she's been cheated on & humiliated in the public media leading to dealing with an ex who just won't clue in on the fact that they're over and she has a stalker that's taken to leaving her messages and following her. With a lull in her career and at a turning point in her life, she is unsure whether she is Sentinel material. As Declan tries to lure her into the job she realises there is another possible candidate – Ian McGuire – a writer of paranormal fiction and thinks he would be much more suited to the job…… but the Gargoyles have other ideas. So, it really sounds good right? Well it just didn't pan out for me…as I said, I loved the premise and had expected an edgy UF with some romance but it was too weak, the storyline never really took off and grabbed me. I liked the characters but didn't empathise with them, I wasn't drawn in by their predicament or care either way who became Sentinel. It took ages for Kate to finally meet those of Shadow Wood, I'm talking half of the book ages and I was way bored by the 40% mark but stuck with it. Unfortunately it didn't get any better – the romance was practically non-existent, she was drawn to him, him to her but they're more worried about what they've been told about the previous sentinel, they share a kiss that wouldn't have even trembled a feather never mind my knees but what can you do? I expected some mission with the gargoyles where she proves she can be their Sentinel or even for them to show her why she would make a good one but that didn't come about, the gargoyles were like children who needed to be told what to do so she basically became a babysitter. Now, saying that, I did like the real life drama that Kate had going on…. I liked the obnoxious ex trying to get her back and I loved the stalker issue which was underplayed in my opinion. There was so much potential for this book to be fab but it just failed to deliver, I was bored, nothing grabbed me and said 'hey! Check this story out' and the pacing was so slow that I fell asleep reading it 3 nights in a row, so a major disappointment for me. Don't get me wrong, I couldn't fault the writing and I'm sure readers who like a slower paced story will lap this up but for me and my preferences.. it was a fail.
2.5 flowers!