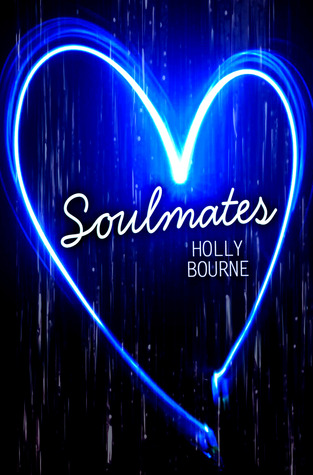 Soulmates
by Holly Bourne
Release Date: September 1st, 2013
Publishers:
Usborne Publishing
Genre:
YA, Fantasy, Romance
Pages: 544
Every so often, two people are born who are the perfect matches for each other. Soulmates. But while the odds of this happening are about as likely as being struck by lightning, when these people do meet and fall in love…thunderstorms, lightning strikes and lashings of rain are only the beginning of their problems.
Enter Poppy, the 17-year-old cynic with a serious addiction to banana milk, and Noah, the heart-throb guitarist; residents of mediocre Middletown, sometime students, and…soulmates.
After a chance meeting at a local band night, Poppy and Noah find themselves swept up in a whirlwind romance unlike anything they've ever experienced before. But with a secret international agency preparing to separate them, a trail of destruction rumbling in their wake, (and a looming psychology coursework deadline), they are left with an impossible choice between the end of the world, or a life without love…
Author Interview with Holly Bourne.
1) Where did you get the idea behind the story?
It seems SO long ago now, but I got the idea in the midst of the Twilight mania. Where there were entire sections of bookshops dedicated to 'dark romance' and 'forbidden love'. Though I loved those books, I also worried they didn't set the most realistic expectation of love. So I got the idea for Soulmates – using a romance book to play with the generic conventions of other romance books. I really wanted to hold a mirror up to all the clichés and expectations of romance, while writing a stonking romance at the same time.
2) How long did it take to write?
Two long years, around my 50 hours a week job as a news reporter. Whenever anyone tells me they 'don't have time to write a book', it makes me want to do a little spiteful dribble on them. Only a little one…
3) What was the most challenging thing about writing this book?
The ending. Oh, the ending, the ending, the ending. I cried solidly for about two weeks afterwards. Plus, making all the science behind soulmates was pretty challenging. I spent a good couple of months researching the science and psychology of love to make the storyline as plausible as I could. 4) Do you have a favourite moment in the book? I really wanted Poppy to have a strong set of friends – that she keeps throughout the romance. And it was brilliant fun writing all the scenes of her, Lizzie, Amanda and Ruth pissing about.
5) What's your favourite quote from the book?
*SPOLIER ALERT* It's right at the end of the book. "That's the thing about love. However you've have it, however you've had it – it never goes. Once it's touched you, it's touched you forever. You'll be permanently scarred by its brilliance. You can walk through the rest of your life with that wonderful knowledge… …someone once loved me and it was beautiful. No-one can take that from you." 6) What's next for you? I have a YA trilogy about FEMINISM coming out. I'm so, SO excited. It's about a group of girls who start a grassroots campaign group at their college. The first book is called 'AM I NORMAL YET?' and is about Evie and her OCD relapse. It examines the links between gender and mental health.
Fun Questions's:
1) What would we find in your refrigerator right now?
A lifetime supply of Quorn sausages Chocolate. A lot of chocolate. Probably a half-empty jar of tomato sauce at the back with mould on it. That's the sort of gross human being I am.
2) List 3 books you have recently read and would recommend?
ARGH! THERE ARE SO MANY. Recently? OK The Sin Eater's Daughter made me realise I do actually like fantasy books! Who knew? Elizabeth Is Missing was beautiful, haunting, frustrating, but hilarious in equal measures. And I've been lucky enough to get a sneaky preview of The Secret Fire, co-written by CJ Daugherty and Carina Rosenfeld, and it's ruddy awesome. You should be excited by it. I am.
3) If you were deserted on an island, what three favourite things would you want with you?
Books. Obvs. Mascara. Just in case a pirate that looked like Johnny Depp rocked up. I guess I should say something like 'a paper and pen so I could use the experience to pen the next great British novel'…but you know what? I really like Quorn sausages. So I'm choosing them.
About the Author:
Holly Bourne writes for young adults for a living. She is a journalist for www.TheSite.org, an advice and information website for 16-25 year-olds.
Before this, she spent two years working as a local news reporter on the Surrey Mirror and was nominated as Print Journalist of the Year 2010. She also has a first class degree in Journalism Studies and has won awards for her writing.
Her debut novel, Soulmates, is published by Usborne on September 1, 2013.