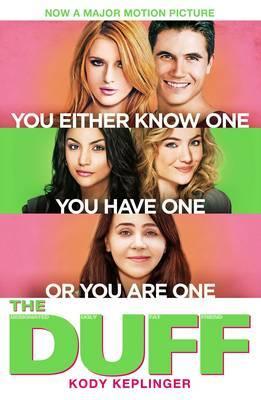 Posted by Donna
Release Date: February 25th, 2015
Publishers:
Hodder Children's Books
Genre:
YA, Contemporary, Romance
Source: For Review
Format: Paperback
Pages: 320
Seventeen-year-old Bianca Piper is cynical and loyal, and she doesn't think she's the prettiest of her friends by a long shot. She's also way too smart to fall for the charms of man-slut and slimy school hottie Wesley Rush. In fact, Bianca hates him. And when he nicknames her "Duffy," she throws her Coke in his face.
But things aren't so great at home right now. Desperate for a distraction, Bianca ends up kissing Wesley. And likes it. Eager for escape, she throws herself into a closeted enemies-with-benefits relationship with Wesley.
Until it all goes horribly awry. It turns out that Wesley isn't such a bad listener, and his life is pretty screwed up, too. Suddenly Bianca realizes with absolute horror that she's falling for the guy she thought she hated more than anyone.
The Review: Plain and simple I loved The DUFF! I can't believe I put off reading this book for so long. It's an amazing story.
The story follows Bianca, a seventeen-year-old girl who gets labelled The DUFF; Designated Ugly Fat Friend by one of the most popular and hottest boys at school - Wesley. Bianca is very opinionated around Wesley and doesn't hold back on telling him what she really thinks, however when her family life starts to get a little crazy, Bianca finds a kind of peace around Wesley when she finds that he's really easy to talk too. Can Bianca find something more in Wesley or are they forever fated to be enemies?
This was just the type of book I needed last week - something easy to read but completely addictive. It's brutally honest and very realistic about teenage life - you don't find many books that many readers will be able to relate to but, that's what The DUFF is. I believe many readers will know exactly what Bianca is going through and how they will do anything to just find some peace in all the craziness.
I loved Bianca and Wesley together - I mean who wouldn't? Wesley does come across as a jerk to start with, and it's so much fun watching Bianca put the boy in his place. They banter back and forth which makes the story very humorous but underneath all that humour, there's the beauty of a strong relationship being formed. I loved every single minute these too spent together - it was honest, real and beautiful.
In all, The DUFF was one surprisingly beautiful read and one I absolutely adored! Well done Kody Keplinger!
To celebrate the release of The Duff which is hitting UK cinema's on April 6th, the movie company are kindly giving ONE winner a chance to win this goody bag which includes the movie tie-in version of the book.
As you all know labelling is a huge issue in our society today, so The Duff are partnering up with Ditch the Label which is a charity who are trying to overcome this, if anyone of you are suffering with any bullying make sure you check out www.ditchthelabel.org for advice and someone to talk to.
The giveaway will run until April 5th 2015.
Good Luck!