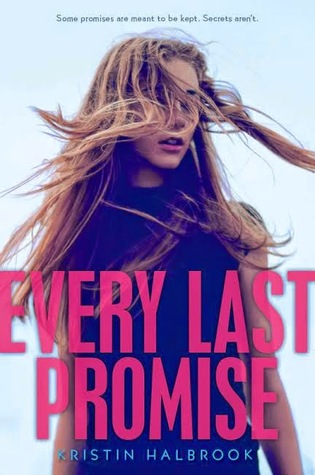 Posted by Donna
Release Date: April 21st, 2015
Finished Date:
January 10th, 2015
Publishers:
HarperTeen
Genre:
YA, Contemporary
Source: For Review
Format: eBook
Pages: 288
Perfect for fans of Laurie Halse Anderson and Gayle Forman, Every Last Promise is a provocative and emotional novel about a girl who must decide between keeping quiet and speaking up after witnessing a classmate's sexual assault.
Kayla saw something at the party that she wasn't supposed to. But she hasn't told anyone. No one knows the real story about what happened that night—about why Kayla was driving the car that ran into a ditch after the party, about what she saw in the hours leading up to the accident, and about the promise she made to her friend Bean before she left for the summer.
Now Kayla's coming home for her senior year. If Kayla keeps quiet, she might be able to get her old life back. If she tells the truth, she risks losing everything—and everyone—she ever cared about.
The Review: Kayla witnessed something at a party that she wasn't supposed to and it's something that she's trying to forget. She hasn't told anybody because of the events that happened and how they've changed her world. She loved her home town and it was a place that loved her in return but now, after spending time at her Aunt's house it's a place that hates her and she has no-one but her family for support. As time goes on, Kayla's guilt starts to eat away at her but can she reveal what happened that night when she knows there will be no turning back and she will forever be an out casted from the place she once loved?
Every Last Promise is a story that is very promising but unfortunately fell a little short for me. From the moment I started the story I struggled to connect to the main character Kayla. She was okay – I guess but she was really a hard character to like. She's witnessed a terrible thing and rather than tell everyone what she saw, she keeps quite all for the sake of her reputation – even though no-one wants to know her because of something she did that night – which I'm not going to spoil for you. What Kayla did was a good twist to the story and it was all for the right reason – or so I believed. So for her to remain quiet over the thing she witnessed just because she thought no-one would believe her, in my eyes, was pretty unforgivable because it involved one of her close friends and mainly because she had the proof all along to back up the events that happened. As a character, Kayla focussed too much on trying to get her friends back. I just found her very shallow.
Kayla wasn't the only character I didn't really like or connect to – Jen and Kayla's other friends as well as some of the boys in the story – who you weren't meant to like – were just mostly horrid people. The only bright spark from the story was the love interest that was sweet but we don't see as much from him and Kayla to really form a real connection to or even to root for their relationship.
The plot of the story does deal with some heavy real life issues and I applaud Kristin Halbrook for exploring the issues within her book, but unfortunately for me, I just didn't enjoy the story as much as I hoped.
Thank you to HarperTeen for giving me the opportunity to review this book in exchange for an honest review.