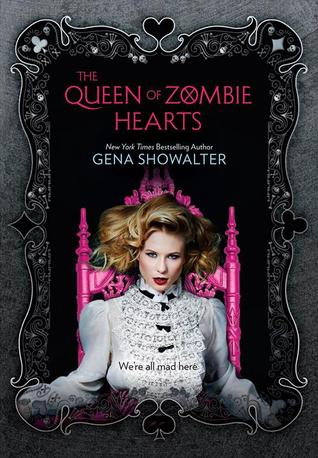 Posted by Donna
Release Date: September 30th, 2014
Finished Date: October 14th, 2014
Publishers:
Harlequin Teen
Genre:
YA, Paranormal, Romance
Source: Gifted
Format: Hardcover
Pages: 464
I have a plan.
We'll either destroy them for good, or they'll destroy us.
Either way, only one of us is walking away.
In the stunning conclusion to the wildly popular White Rabbit Chronicles, Alice "Ali" Bell thinks the worst is behind her. She's ready to take the next step with boyfriend Cole Holland, the leader of the zombie slayers…until Anima Industries, the agency controlling the zombies, launches a sneak attack, killing four of her friends. It's then she realizes that humans can be more dangerous than monsters…and the worst has only begun.
As the surviving slayers prepare for war, Ali discovers she, too, can control the zombies…and she isn't the girl she thought she was. She's connected to the woman responsible for killing—and turning—Cole's mother. How can their relationship endure? As secrets come to light, and more slayers are taken or killed, Ali will fight harder than ever to bring down Anima—even sacrificing her own life for those she loves.
The Review:
I'm a sobbing mess. A. COMPLETE. MESS. But what a way to end the series!
Alice and Cole have been through thick and thin and just when they're starting to slip back into the routines of their hectic lives, destruction comes crashing down on them and it's all because of Anima Industries – the company who try to control the Zombie's – because they want Ali. When four of her friends are killed by Anima's hands, Ali is more determined than ever to put an end to their company, but no matter how many times her and the slayers get a head, Anima are always there to bring them back down. But when Ali starts being able to control the Zombie's and having more gifts than the other slayers, she realizes there are secrets hidden deep within her past. Can Ali save everyone she loves before Anima destroys everything?
I've been eagerly awaiting the release of
The Queen of Zombie Hearts
and as soon as it landed on my door step, I knew it was the perfect time to re-read the first two books so I could refresh on what I knew I'd properly forgotten over the last two years. And what a great decision that was because it made me enjoy this book even more. I honestly didn't know what to expect when I headed into this instalment. I was nervous, scared, excited, hopeful, every emotion that I could possibly feel, I was feeling because I just didn't know how this series would end. It's a riveting and engaging story. There isn't a dull moment. There's more than enough twists to the story that keep you on your toes. It's funny and has a ton of laugh-out-loud moments but it also break your heart – yep, emotional! Get the tissues ready!
Ali and Cole are phenomenal characters. I love the relationship they have. It's intense and full of sparks. It's beautiful and dangerous and sweet, it's everything. They're one feisty couple, never willing to give up on not just their relationship, but in everything in their life. They love fiercely with everything they have.
I felt as though Ali never really caught a break during this instalment. One thing after another was thrown at her and each time a new situation arrived, it seemed to be worse than the next. But no matter what, she pushes try and deals with what she has. She finds out some shocking things about herself too, but again, she pushes through. I've really enjoyed Ali's journey, no matter the hardships and she's definitely not an unforgettable character.
The secondary characters are second to none. They made this series so enjoyable to read. I loved all the slayers and non-slayers in the end. Some took time to warm up to but still, so worth it in the end. And it really broke my heart to see some of them leave this story so early. I wasn't prepared for it – especially for one character. I won't say who. But it's the reason I cried so much! It broke my heart to see but more so for the other person involved and how it would affect them too. Even though I'm devastated, I'm glad it didn't feel forced into the story line - it felt very real.
In all,
The Queen of Zombie Hearts
is a heart-pounding and exciting finale to this series. It's a sad feeling letting these character go, but I'm glad it went out with such a bang and I believe Gena Showalter did an awesome job with it. I highly recommend you read this series!