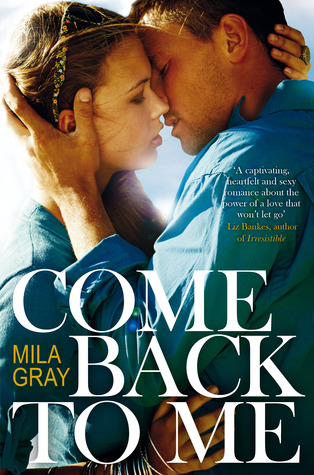 Come Back to Me
by Mila Gray
Release Date:
October 23rd, 2014
Genre: New Adult, Contemporary, Romance
Home on leave in sunny California, Marine and local lothario Kit Ryan finds himself dangerously drawn to his best friend's sister, Jessa - the one girl he can't have.
But Kit's not about to let a few obstacles stand in his way and soon Jessa's falling for his irresistible charms.
What starts out as a summer romance of secret hook-ups and magical first times quickly develops into a passionate love affair that turns both their worlds upside down.
When summer's over and it's time for Kit to redeploy, neither Kit nor Jessa are ready to say goodbye. Jessa's finally following her dreams and Kit's discovered there's someone he'd sacrifice everything for.
Jessa's prepared to wait for Kit no matter what. But when something more than distance and time rips them apart they're forced to decide whether what they have is really worth fighting for.

A breathtaking, scorchingly hot story about love, friendship, family and finding your way back from the edge of heartbreak.
To celebrate the upcoming paperback released of Mila Gray's Come Back to Me in the UK on 23rd October and Australia's release in November, were here today with a few exciting treats.
Firstly though, we'd like to congratulate Mila Gray (aka Sarah Alderson) and the fantastic news that Come Back to Me beat Fifty Shades in the erotica listing on Amazon and also reached #8 in the bestseller charts in WHSmith here in the UK! Woohoo!
Anyway, back to the awesome part of the post. You can read a little teaser below of the upcoming release and have your chance at winning a goodie bag from Mila herself! Good Luck!
Excerpt from Come Back to Me by Mila Gray
'I didn't know you could cook.'
'I have many, many skills. As you will soon discover.'
He catches my eye and I totally do not misread the look he's giving me. My stomach flip flops and heat rises up my neck. If he's that good a kisser I can only imagine how good he might be at the other stuff.
After I've eaten at least six of the cakes Riley stands up and shakes off the blanket of all the crumbs then he lays it down on top of me again. 'You OK?' he asks, 'Not cold? Tired?'
'You're such a gentleman,' I say, as he sits back down beside me and puts his arm around me.
'I have four aunts and fifteen female cousins. I had manners beaten into me.'
'Not by your dad?' I ask, twisting to face him. My dad still yells at us if we put our elbows on the table or start eating before he's done saying grace.
'No,' says Kit smiling. 'He was browbeaten by all the women in the house. My mom and all her sisters. He gave up trying to win against an ocean of oestrogen.'
I like the image of Kit's dad being overwhelmed by his mom and her sisters. It's easy enough to picture. Whenever I've met Kit's family I've never been able to get a word in edgeways.
'What else did they teach you?' I ask.
'To put the toilet seat down.'
'Always a good habit. Could they teach Riley you think?'
'I'll ask.' He twists a strand of my hair around his finger. 'I can braid hair too.'
I narrow my eyes at him. 'You can braid hair?'
'Oh yeah. French braids, normal braids, you name it. Just don't tell anyone in my Unit becuase my reputation is on the line here. If they ever found out that'd be it for me.'
'OK, I promise,' I say. 'Though you might have to make it worth my while.'
'What? Buy your silence?' he asks, sliding his eyes in my direction. 'With money?'
'No,' I whisper. 'Maybe some other way.'
'Some other way?' he asks, his lips now against my ear. 'I can think of a few ways that might work. Except,' he pauses, his voice so low it gives me chills. 'I'm not sure you'd be able to stay silent.'
My whole body arches towards him, my skin contracted in a shiver so tight it's painful. Just his words make my breathing speed up in aching anticipation. Is he going to follow through? But he doesn't. He just links his fingers through mine and turns to face me so we're nose to nose.
'I meant it when I said I was thinking about you a lot when we were away,' he says. 'I couldn't get you out of my head.'
Cold desert air fills my lungs as I draw in a huge breath. 'Me neither,' I whisper. 'I mean, you. Out of my head.'
Kit lifts his hand and traces a finger along my cheekbone and then my lips. 'Since when?' he asks.
'Last time you were back. You remember? That time at the beach . . .'
He stares at me for a moment in disbelief before his face cracks into a grin. 'Oh I remember all right. You were wearing a yellow bikini. It's burned on my retina.' He rolls his eyes to the sky and rubs his hand across the bridge of his nose. 'Man, what I would have done to kiss you back then.'
He liked me back then? 'You should have,' I say. If only he had. We wasted so much time, that's all I can think.
'And I wouldn't be alive today if I had. Your brother would have had a piece of me.'
It's the first time either of us has mentioned Riley, though I'm certain Kit must have been thinking about him too.
'You okay with this?' he asks when I don't say anything. The grin has gone and his expression has turned deadly serious. 'I realize I'm putting you in a difficult situation. I mean, neither your dad or Riley are going to be happy if they find out about us.'
'Well, we'll just have to keep it a secret won't we?' I say, leaning closer so my lips are just a milimetre from his.
'Are you sure? That's what you want?' Kit murmurs. 'Because if you're not sure . . . if you don't want to get in trouble, I'll understand if you just want it to be this one night and nothing more.'
I kiss him before he can say anything else.
Mila Gray is the pen name for Sarah Alderson, author of Hunting Lila, Losing Lila, The Sound, Fated and Out of Control.
Originally from London she has lived in Bali for the last four years with her husband and daughter.
As well as writing young adult fiction under the name Sarah Alderson and adult fiction under the name Mila Gray, she also writes screenplays.
You can find out more at www.milagray.com and on facebook: www.facebook.com/sarahjalderson