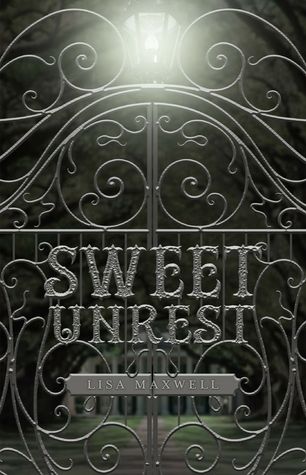 Posted by Melanie
Release Date: October 8th
, 2014
Finished Date: September 8th, 2014
Publishers:
Flux
Genre:
YA, Paranormal, Romance
Source: For Review
Format: eARC
Pages: 336
Lucy Aimes has always been practical. But try as she might, she can't come up with a logical explanation for the recurring dreams that have always haunted her. Dark dreams. Dreams of a long-ago place filled with people she shouldn't know…but does.
When her family moves to a New Orleans plantation, Lucy's dreams become more intense, and her search for answers draws her reluctantly into the old city's world of Voodoo and mysticism. There, Lucy finds Alex, a mysterious boy who behaves as if they've known each other forever. Lucy knows Alex is hiding something, and her rational side doesn't want to be drawn to him. But she is.
As she tries to uncover Alex's secrets, a killer strikes close to home, and Lucy finds herself ensnared in a century-old vendetta. With the lives of everyone she loves in danger, Lucy will have to unravel the mystery of her dreams before it all comes to a deadly finish.
The Review:
Sweet Unrest was a great read filled with mystery and intrigue.
Set in New Orleans, Lucy Aimes life is about to get very strange when she and her family move to an old plantation. For as long as she has remembered she has had recurring dreams of drowning but those dreams take on a different purpose with the move, she starts to dream of people who lived around the area long ago, people who she shouldn't know but feels connected to. Around the time Lucy also meets the mysterious Alex, who always seems to be around when no one else is, who seems to know her…. But how can he? For they have just met….one thing is for sure, he's hiding something and she wants to find out. Lucy is also introduced to the voodoo and mysticism that is synonymous of the area and is about to be drawn into a whole lot of danger – can she solve the mystery of the past to save all of their futures?
So, I really enjoyed this story – to me when you put together New Orleans, voodoo, an old plantation house and mystery you're automatically going to think gothic ghost story and you would be right. I thought Lucy was great character to bring the story to life, she had a sceptical attitude to what was happening and I liked that she questioned it instead of blindly believing everything. I admired her determination to know the truth and of course that she wanted to save those in danger. I also liked the connection she had to Alex, they had some sweet moments and again I liked that she questioned her feelings for him and often.
The storyline as I said was very mysterious and watching it all unfold was great. I liked the way the past blended in with the present and that we got chapters from both eras, I'm not one for any type of historical fiction but when the past is portrayed as this was – I don't seem to mind it. I also thought the book was very atmospheric and you could feel the growing danger and the mystery of it all, each time we went back and learned a little something new was very important to the plot and kept adding to the 'feel' of it knowing that something was going to happen and soon. I loved the setting, I have to say that those big plantation houses are my dream homes and I would love to own one, the splendour and history of all that came before are amazing and I bet those houses do indeed have stories of their own – as this one did – and because of the fact that it's in New Orleans is even better, a place so rich in culture with its own belief system crafted by many. I don't read enough books that deal with voodoo, I like what it brings to a story and I'm never disappointed because it always brings its own ambience and sense of mystery – I enjoyed how it was used here and the explanations given, Mama Legba is quite the character as any voodoo priestess should be.
All in all I thought this book was great, it was easy to read, kept me entertained and guessing right up until the bittersweet ending and definitely worth a read.
Thank you to Flux for giving me the opportunity to review this book in exchange for an honest review.
About the Author:
About Lisa Maxwell: Lisa Maxwell is the author of Sweet Unrest (Flux, Fall 2014) and Heartless Things (Simon Pulse, Spring 2016). She has a PhD in English, and when she's not writing books, she's a professor at a local college. She lives near DC with her very patient husband and two not-so patient boys.
Social Media Links:
Facebook: https://www.facebook.com/lisamaxwellauthor
Blog: www.lisa-maxwell.com/blog
Book on Goodreads: https://www.goodreads.com/book/show/18402202-sweet-unrest
Author on Goodreads: https://www.goodreads.com/author/show/7246482.Lisa_Maxwell
Tumblr/Pinterest/Etc: http://www.pinterest.com/lisamaxwell13
http://instagram.com/lisamaxwell13
Fourteeners: www.fallfourteeners.com
One Four Kid Lit: http://onefourkidlit.wordpress.com