Okay guys we all know how everyone loves giveaways but we also know we all love finding new blogs....so I'm here to tell you about a great blog that Jess & I have followed for a while.
Ya-Aholic is a blog run by Haley....who by the way is fantastic. She's one of the nicest bloggers we've met and h
er blog is anything to do with YA books but she also does cover reveals, updates and weekly meme's. So a lot of fun!
At the moment she is holding her FIRST giveaway!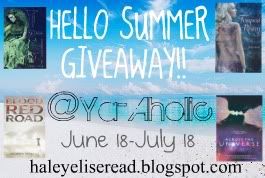 Click the giveaway banner and go and show her your support. Please guys...don't just go over to enter the giveaway....be nice and check out her reviews, posts and leave her a few comments too while your there. You know bloggers love comments.