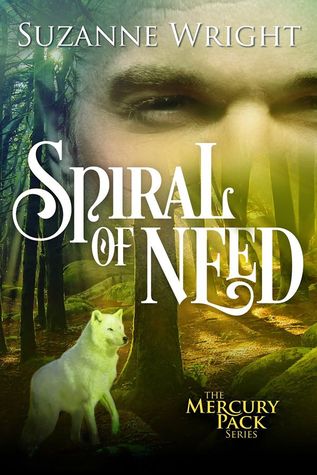 Posted by
Melanie
Release Date: September 29th, 2015
Finished Date:
December 4th

, 2015
Publishers:
Montlak

e Romance
Genre:
N

A, Contemporary, Romance
Source: For Review
Format: eBook
Ally Marshall isn't just a wolf shifter — she's a Seer.

But a girl doesn't exactly need special powers to know that Derren Hudson despises her entire kind. Disdain practically rolls off the Beta of the Mercury Pack . . . disdain mixed with a healthy dose of desire. And no matter how much the ruggedly handsome male appeals to her, this is one call of the wild she's determined to ignore.

After one betrayal too many, Derren doesn't have much use for Seers — except for Ally.

Forced into acting as her protector, he finds himself intensely and passionately drawn to the woman who incites his primal instinct to claim.

And when enemies target the pack, Ally's gift may be just what the Mercury Pack needs.

Can he put his distrust aside, or will he force himself to turn his back on the one woman who makes his inner beast howl?
The Review:
If you're reading this series then you're probably aware of the author's Phoenix Pack series and that is where you will have met most of these characters and whilst it's not important to have read that series, it helps to know who everyone is and the dynamics of the two packs and what had caused it…. Needless to say, this was just as awesome an opener to the series as the previous series. I really liked the characters in this and thought Ally was a very capable heroine, her circumstances weren't great and I really felt for her situation – her boyfriend found his true mate and that mate was alienating Ally from her whole pack – she was really stubborn and determined and I liked that about her. We all love a good hate to love scenario and that is what we get here because with Ally being a seer, Derren being prejudiced against seers – someone is going to have to work on their preconceptions. To be fair, it isn't just Derren that hates seers, it's the whole pack…. So Ally has some hard work cut out for her in changing their minds and the only reason Derren took her to his pack is because he owes a favour to someone. It was fun to read about them both fighting their attraction, with Ally being a seer, she is very empathic and actually feels the emotions of those around her so it can't have been easy in the beginning when all she felt was distrust and animosity. Obviously they get down and dirty with each other and they certainly steam up those pages both believing that they aren't forever but as always…. Fate has other plans.
I really enjoyed the story line in this, it was exciting and dangerous with multiple attacks on the Mercury pack that brought some action and violence to the plot. We know the problem the pack has had with seers so Ally is there to remedy that and make them see that they aren't all self serving, it was good of her to challenge their misconceptions and I liked how it was handled. The reason she ends up with the Mercury pack was really good and totally set the tone of the book so that we don't exactly know if it's the pack or Ally that is being targeted because the attacks come strong and fast. Ally has a protector who more or less ordered Derren to take her in until he was able and what a great addition he was to the plot – I would LOVE his book and his brothers! There are a lot of shifting dynamics between neighboring packs plus Ally's old pack as the Mercury pack really go all out and make an impact. It was great to see some healthy sized cameos from the Phoenix pack and I loved what they injected into the story too. I'm just as excited about this series as I was about the other so it promises to be more good stuff!
Thank you to Montlake Romance for giving me the opportunity to review this book in exchange for an honest review.