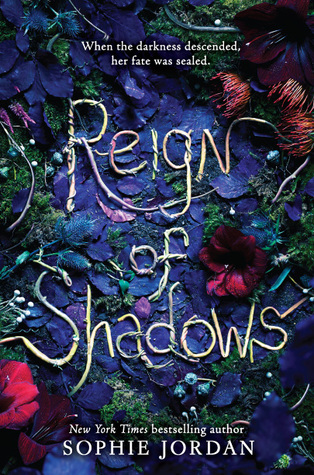 Posted by Donna
Release Date: February 9th

, 2016
Finished Date:
November 25th, 2015
Publishers: Harper Teen
Genre:
YA,

Fantasy
Source: For Review
Format: eARC
Pages: 304
Buy:
Amazon UK
/
Amazon US / Book Depo
Seventeen years ago, an eclipse cloaked the kingdom of Relhok in perpetual darkness. In the chaos, an evil chancellor murdered the king and queen and seized their throne. Luna, Relhok's lost princess, has been hiding in a tower ever since. Luna's survival depends on the world believing she is dead.
But that doesn't stop Luna from wanting more. When she meets Fowler, a mysterious archer braving the woods outside her tower, Luna is drawn to him despite the risk. When the tower is attacked, Luna and Fowler escape together. But this world of darkness is more treacherous than Luna ever realized.
With every threat stacked against them, Luna and Fowler find solace in each other. But with secrets still unspoken between them, falling in love might be their most dangerous journey yet.
With lush writing and a star–crossed romance, Reign of Shadows is Sophie Jordan at her best.
The Review:
Reign of Shadows has such a beautiful cover that you can't help wanting to know more once you first see it. And with a synopsis that sounds intriguing and deliciously good, plus it's a YA fantasy story so I was definitely on board with that!
I really love the concept of this story. I really do. I mean who wouldn't want to read a story about a Princess who has lost her kingdom to an evil chancellor and has been in hiding for the last seventeen years? A kingdom that is encased in darkness with man eating monsters crawling around? And a romance brewing with a mysterious guy? This book was right up my street but as much as I wanted to love Reign of Shadows I can't help feeling the whole book was very underwhelming. I clearly enjoyed the book enough to finish it but I didn't finish it with excitement or the need to have the sequel in my hands straight away like I was expecting to. It was just like meh. And that's disappointed me the most because I was expecting to love this story.
I actually really liked Luna to start with and the twist with story was something I was expecting but the more the story progressed the more she started to grate on my nerves. She didn't act the way a person would with a disability. If anything I tended to forget she even had one because the story is written in such a way that makes you second guess if she a one or not. I also didn't like how she had no drive to regain control of her kingdom. Although she wanted to experience the outdoors and the world around her, she didn't seem to have much desire to want her kingdom back. She didn't seem to want revenge on the person who killed her parents. She just didn't seem believable as a character. Even though she's strong and has many talents, you would think she'd want to help her people? I couldn't believe that she was really that oblivious to why the new King was killing young girls. And when she finally figures it out, with the click of her fingers she decides she needs to stop him. But if anything she just seemed willing to have her life sacrificed rather than help the people that needed not just a select few but her whole kingdom. You could say that's because she's been hidden in a tower for seventeen years and wasn't brought up like a princess but considering she didn't enjoy her life locked away, you'd think she'd want more? She'd want to keep her parents memories alive? I just didn't get that vibe from her, it was more a self-centred one.
The rest of the story was up and down for me. I enjoyed parts but it was slow going and there really wasn't much of a plot to the story. I also had to keep reminding myself this was a fantasy story because it didn't really feel like it at times. There isn't much explanation to why the Dwellers are there. Why the eclipse happened. Why it happened when Luna was born. Is she connected to it and is that why she is blind? All these questions kept going around in my head and I got no answers. I also kept waiting for Luna to want to reclaim her throne but that just never came. I think the story definitely lacked progression especially if as a writer, you want people to want to read more. It's open for debate whether I'll read the sequel or not at this moment. I guess it's a case of curiosity nearer the time. But I do think the series has a lot of potential so who knows.
Thank you to Harper Teen for giving me the opportunity to review this book in exchange for an honest review.