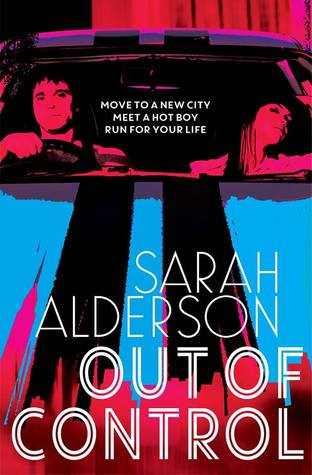 Posted by Donna
Release Date:
May 22nd 2014
Finished Date: April 14th, 2014
Publishers:
Simon and Schuster UK
Genre: YA
, Contemporary, Thriller
Source: For Review
Format: Paperback
Pages: 320
When 17 year old Liva witnesses a brutal murder she's taken into police custody for her own protection. But when the police station is attacked and bullets start flying it becomes clear that Liva is not just a witness, she's a target.
Together with a car thief called Jay, Liva manages to escape the massacre but now the two of them are alone in New York, trying to outrun and outwit two killers who will stop at nothing to find them.
When you live on the edge, there's a long way to fall.
The Review: You all know how much I adore Sarah Alderson's work – she's definitely one of my favourite authors and with each new release I find myself anticipating it so bad, I can hardly wait. And waiting for Out of Control was no different!
Olivia known as Liva has just moved to New York City when the people she is staying with are brutally murdered and Liva witnesses. Taken into police protection custody, Liva is doing her best to recount the events that happened but no sooner than she starts, the police station is hit and more people die. Liva's only hope is; Jay a car thief. Together Liva and Jay run for their lives but they cannot seem to shake the people following them. How did Liva get herself mixed up in this mess and can she and Jay make it out alive?
Engaging, fast-paced and full of action, Out of Control is a smashing story that will leave you guessing through out. Admittedly it was a little different than I was expecting. I'm not one for action films and this has a very action driven plot – it was almost like a movie, there's something constantly happening whether it's at the front of the story or in the background. But even though it was different to what I was expecting, I still thoroughly enjoyed it. There were several big twists to the story that kept you guessing throughout and even I was surprised with who was behind it all.
I liked both Liva and Jay – I could see why they clicked together as characters and it was fun and sometimes terrifying watching their story play out. Liva was very trusting in Jay; I don't think she had much choice if she wanted to say alive. She didn't know anyone else in the City and was basically on her own. Jay stepping in to help her was a very admirable quality. He kept putting himself in danger for her and did anything he could to protect her.
Their romance was very minimal but I could understand why it was for this story – especially with the book only being based around a few days, but I would have been extremely happy for more.
In all, Sarah Alderson writes another fantastic story and I cannot wait to see what this marvellous woman comes up with next!
Thank you to Simon and Schuster for giving me the opportunity to review this book in exchange for an honest review.
Having spent most of her life in London, Sarah quit her job in the non profit sector in 2009 and took off on a round the world trip with her husband and princess-obsessed daughter on a mission to find a new place to call home. After several months in India, Singapore, Australia and the US, they settled in Bali where Sarah now spends her days writing by the pool and trying to machete open coconuts without severing a limb.
She finished her first novel, Hunting Lila, just before they left the UK, wrote the sequel on the beach in India and had signed a two book deal with Simon & Schuster by the time they had reached Bali.
A third book, Fated, about a teenage demon slayer, was published in January 2012.
The Sound, a thriller romance set in Nantucket, was published in August 2013. She has a further three thrillers due for release in the next few years.