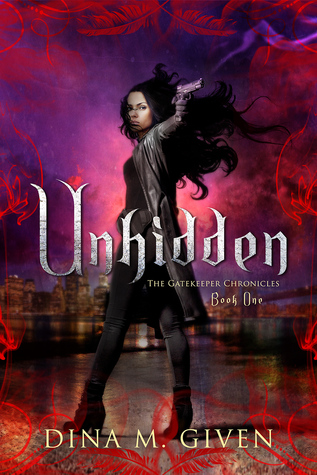 Posted by

Melanie
Release Date:
December 29th, 2014
Finished Date:
January

3rd

, 2016
Publishers:
Team D Enterprises, LLC
Genre:
Urban Fantasy
Source: For Review
Format:
eBook
Pages:
Unk

nown
Buy:
Amazon UK
/
Amazon US
It's not always easy to differentiate between the good guys and the bad guys, especially when your heroine is a trained killer and she may be falling in love with her evil hunter…

Emma Hayes, a former military Special Forces Operative turned mercenary-for-hire, finds her tightly controlled world turned upside down when she is attacked by horrible monsters.

Emma must use every skill in her arsenal to stay alive as she tries to solve the mystery of why she has been targeted. Her list of enemies keeps growing - from Zane Shayde, an evil Mage, to a secret branch of the US government - and she doesn't know if there is anyone left she can trust.

To complicate matters further, Emma is inexplicably drawn to Zane in a way she doesn't quite understand, even knowing her life is forfeit if captured. Who is he and why does he have this affect on her? How can she fight a being that calls to her, body and soul?

Emma is left haunted by questions, doubts and fears as to why she has been targeted, when they will come for her next, and how she will possibly be able to survive against an enemy she doesn't understand.
The Review: Unhidden is the first book in 'The Gatekeeper' series and it was fab!
I'm not going to rehash the synopsis because it outlines the book really well and is sure to draw you in anyway.
I will start by saying that this book came across as very serious and mature – so, very much aimed at the adult reader and I thought that added to its appeal. Emma was a heroine that was more than capable of looking out for herself and fighting her own battles, she is military trained and hires herself out for missions – so men aren't needed to be her knight in shining armour in this book. She has no shortage of admirers but none that have stirred anything substantial in her until she meets Zane; the problem is....Zane is an evil mage that is sent to hunt and retrieve Emma for his master. I love the enemies to lovers kind of romance and that is sort of what we get but it has a couple of twists along the way and it also isn't the main focus of the book. Their connection – when revealed-
is really interesting and I'm really curious to see how it will play out.
The storyline could be classed as a gritty urban fantasy – what you don't know is that Emma has missing memories following the death of her parents and most of the purpose of the storyline is to introduce Emma to her true self, enlighten her on her missing memories, and a few other secrets that you will only find out if you read it. There is no shortage of action with Emma being chased by Mages, the Government, evil creatures etc. so there will be fighting and action galore! There is a lot of mystery which not only revolves around Emma but also her new acquaintances – and they really piqued my curiosity. A lot of the story also happens directly because of what Emma discovers so it is hard to not spoil it...just know that it is a great book with an intriguing premise, the characters are ones you can really get behind and you really want to know all about them – even the secondary characters, there is lots to discover, it's filled with danger and excitement and it's only just the beginning.... I can't wait for more!