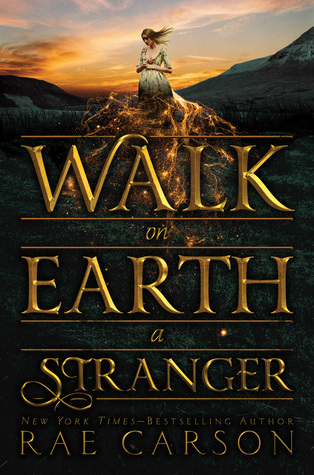 Posted by Donna
Release Date: September 22nd, 2015
Finished Date:
June 6th, 2015
Publishers:
Greenwillow
Genre:
YA
, Historical, Fantasy
Format: eARC
The first book in a new trilogy from acclaimed New York Times bestselling author Rae Carson. A young woman with the magical ability to sense the presence of gold must flee her home, taking her on a sweeping and dangerous journey across Gold Rush–era America.
Lee Westfall has a secret. She can sense the presence of gold in the world around her. Veins deep beneath the earth, pebbles in the river, nuggets dug up from the forest floor. The buzz of gold means warmth and life and home—until everything is ripped away by a man who wants to control her. Left with nothing, Lee disguises herself as a boy and takes to the trail across the country. Gold was discovered in California, and where else could such a magical girl find herself, find safety? Rae Carson, author of the acclaimed Girl of Fire and Thorns trilogy, dazzles with this new fantasy that subverts both our own history and familiar fantasy tropes.
Walk on Earth a Stranger, the first book in this new trilogy, introduces—as only Rae Carson can—a strong heroine, a perilous road, a fantastical twist, and a slow-burning romance. Includes a map and author's note on historical research.
The Review:
Disappointing!
I'm clearly the minority when it comes to Walk on Earth a Stranger which is disappointing because I know how much love everyone has for the author Rae Carson. It makes me wonder if I should have started with her other series first – The Girl of Fire and Thorns rather than this one.
I have to say I really did love the concept of this story – a teenage girl who has the ability to sense presence of gold – it's a unique idea and immediately you can't help yourself become curious about the idea. In fact I still really love the concept behind this story, unfortunately it was the way it executed that failed to impress me. While I do enjoy some historical YA fiction for me I just found this pretty boring. I can't say I was overly interested in the whole Gold Rush era, I felt the story was bogged down by a lot of the information. My mind kept wondering when I felt as though I should be giving it my full attention. The slow pacing of the story didn't help matters either. The first 50 pages for me was definitely the best part of the story.
I bet your wondering why kept reading if I clearly didn't enjoy this story? It was more about the main character's journey that kept me reading and also I honestly wanted to give this author a chance. But Lee was my main reason for reading. I really liked her. I felt so bad for her with everything that she was going through and everything that she had to suffer with her journey of losing her parents to going on the run and trying to find her friend. She was the only character that I managed to have some form of connection with. There were a lot of secondary characters that I didn't care for or like. I didn't have any form of connection with. And even the love interest/romance wasn't much to root for. And I need to be invested with the love interest to form a connection.
For me the most disappointing part of this story was the fact that Lee on really uses her ability at the start of the story. While she's on her journey she doesn't use it. Maybe slightly at the end of the book but that's it. Because of this is doesn't really let us explore her ability. I understand that Lee doesn't understand it herself, but I thought this would have been a story that allowed her to explore that. So I don't quite understand why that never happened. It's a possibility that in the sequel we will discover more about it but, for me if a book fails to impress me I'm more than likely won't continue with the series.
Thank you to Greenwillow for giving me the opportunity to review this book in exchange for an honest review.