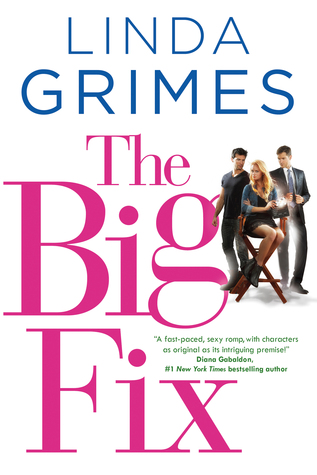 Posted by Melanie
Release Date: May 12th, 2015
Finished Date:
May 31st, 2015
Publishers:
Tor Books
Genre:
Urban Fantasy
Source: For Review
Format: Hardcover
Linda Grimes's sexy and hilarious urban fantasy series that began with In a Fix and Quick Fix continues in The Big Fix.
Aura adaptor extraordinaire Ciel Halligan, who uses her chameleon-like abilities to fix her clients' problems--as them--is filling in on set for action superstar Jackson Gunn, whose snake phobia is standing in the way of his completing his latest mega-millions Hollywood blockbuster. There's only one thing Jack fears more than snakes, and that's the possibility of his fans finding out he screams at the sight of one. Going from hero to laughing stock isn't part of his career plan.
Seems like a simple enough job to Ciel, who doesn't particularly like snakes, but figures she can tolerate an afternoon with them, for the right price--which Jack is offering, and then some. What she doesn't count on is finding out that while she was busy wrangling snakes for him, his wife was busy getting killed. When Ciel goes to break the sad news to the star, she finds out Jack was AWOL from her client hideaway at the time of the murder.
Ciel begins to suspect Jack's phobia was phony, and that he only hired her to provide him with an alibi--but if she goes to the police, she'll have to explain how she knows he wasn't really on set. Up against a wall, Ciel calls on her best-friend-turned-love-interest Billy, and her not-so-ex-crush Mark, to help her set up the sting of a lifetime.
The Review: The Big Fix is the third instalment of the 'In A Fix' series and Ciel Halligan finds herself in yet another difficult situation during one of her 'jobs'.
Ciel has taken on a job for a Hollywood star Jackson Gunn, using her aura adapter gift to assume his identity for a difficult scene involving snakes because let's face it – an action movie star who exudes masculinity cannot be seen to be afraid of anything. So in order to save the mans reputation, Jackson is off to Ciel's range for some R & R, Ciel does the scene and everything is going great……. That is until the director drops the bombshell to Ciel/Jackson that his wife has been murdered!
Ciel feels obligated to be the one who drops the bombshell to Jackson and heads straight to the Ranch to do just that but Jackson is nowhere to be found until a couple of hours later when he claims he was lost on a hike. With the time he's been missed, there is definitely a window of opportunity for him to have done the deed and using Ciel for the perfect alibi and when the coincidences just keep on happening…. Ciel decides to look into the murder with the help of the only two men to make her heart pound – Billy and Mark.
I love this series, it is so easy to read and immerse yourself in. The characters are all likable, even the secondary ones but Ciel, Billy and Mark are the characters we deal with most often. If you have read this series from the beginning then you will know that Ciel had a decade+ crush on Mark but because she is his best friends sister, he took on the brotherly role and nothing ever came from it whilst Billy had been her partner in crime/fake cousin and something blossomed between them so they went with it and despite Billy's love of many ladies, seem to be making a real go of it. The thing is, the triangle is there and Ciel will always see Mark in that way but now Billy is there too and it's about to get complicated. I've always shipped Ciel/Mark because they had a great connection throughout but he's way more mature than her so when she got with Billy, I was ok with it because he brings out the reckless, fun and love of life side of her and whilst I hate love triangles or cheating in my reads – I was happy to let it play out. Did I enjoy what happened in this book? Yes! The way it was done was understandable, it seemed to draw a conclusion to the triangle but it was a trigger that usually stops me reading a book. Either way, there was plenty of sexytime for Ciel that definitely got the pulse racing.
The storyline was great – as usual – and I really enjoyed it, so much so that I couldn't put the book down!
It always seems to start off with something farcical, Ciel has a way of getting herself wound up in some real calamities and has to dig herself out of them, often with hilarious consequences. I loved how the story unfolded, Ciel finds herself in more than one near death experience and the investigation has her tied in knots with plenty of suspects and a lot of misdirection. It takes everything she has to come up with a plan to solve this one and the participation of a whole cast of characters. But with Billy and Mark at her back, she will surely solve the case… that is when she isn't dealing with relationship drama, being the maid of honour at her brothers wedding and posing as a grieving widower. This was a fun filled ride and could possibly be my favourite in the series, I can't wait for more!
Thank you to Tor Books
for giving me the opportunity to review this book in exchange for an honest review.