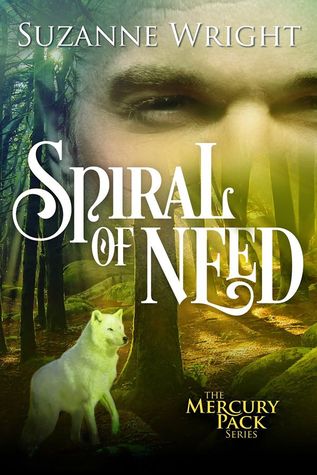 Posted by Donna
Release Date: September 29th, 2015
Finished Date:
August 23rd, 2015
Publishers:
Montlak

e Romance
Genre:
N

A, Contemporary, Romance
Source: For Review
Format: eBook
Ally Marshall isn't just a wolf shifter — she's a Seer.

But a girl doesn't exactly need special powers to know that Derren Hudson despises her entire kind. Disdain practically rolls off the Beta of the Mercury Pack . . . disdain mixed with a healthy dose of desire. And no matter how much the ruggedly handsome male appeals to her, this is one call of the wild she's determined to ignore.

After one betrayal too many, Derren doesn't have much use for Seers — except for Ally.

Forced into acting as her protector, he finds himself intensely and passionately drawn to the woman who incites his primal instinct to claim.

And when enemies target the pack, Ally's gift may be just what the Mercury Pack needs.

Can he put his distrust aside, or will he force himself to turn his back on the one woman who makes his inner beast howl?
The Review:
I just can't get enough of Suzanne Wright's shifter books! Spiral of Need is the first book in the spin-off series to Phoenix Pack. I've been addicted ever since I read Feral Sins and so I'm thrilled that she's widening the shifter's world by writing this spin-off series and Spiral of Need was an instant favourite!
Spiral of Need follows Derren Hudson - the beta of of the Mercury pack and Ally Marshal a dominant wolf but she is also a seer. Most people hate seers' because they abuse their gift and Derren hates them with a passion. Actually most of the Mercury Pack do. So when Ally is being targeted by her beta female, a close friend of Ally's reaches out to Derren and the rest of the Mercury pack and asks them to take Ally in for her own protection. Derren reluctantly agrees but when Ally's gift starts becoming helpful to the Mercury and Phoenix pack they and including Derren start warming up to Ally, and soon Derren's feelings turn into something more.
I really, really love Suzanne Wright's books and with each new shifter book I find I love her work more and more. I don't think I've found any other author that quiet hits the spot like Suzanne - and I would love to find more, so if anyone has any recommendations, I'd really appreciate that.
What I love about these stories is the mix between the relationship and the plot of the story. It's always woven together so great that leaves you on the edge of your seat. The romance is totally swoon-worthy and always so suspenseful and then the remaining plot is dangerous and so fast paced that it's impossible not to love. I love how the plot changes from each book. It makes me wonder what is next to come and I can't wait!
Derren and Ally were fantastic characters. With Ally being a new character introduced I had no background information until I started reading but I immediately loved her. She's feisty, sassy and very sharp. She's got skills that are seriously impressive and I thought she had a lot to offer the Mercury pack. She needed someone like Derren, strong, loyal but more importantly someone who she could connect with over their bad start in life. Derren and Ally were a great match and I enjoyed every minute of them together.
In all, this was a hit, a massive hit and I can't wait for more from Suzanne Wright!
Thank you to Montlake Romance for giving me the opportunity to review this book in exchange for an honest review.