"Waiting On" Wednesday is a weekly event, hosted by Jill at Breaking the Spine, that spotlights upcoming releases that we're eagerly anticipating.
Donna's WoW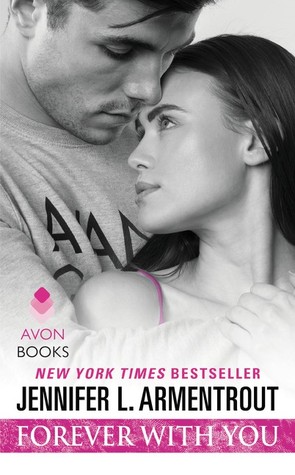 Forever with You (Wait for You #5)
by Jennifer L. Armentrout
Release Date: September 29th

, 2015
In the irresistibly sexy series from #1 New York Times bestselling author Jennifer L. Armentrout, two free spirits find their lives changed by a one-night stand…

Some things you just believe in, even if you've never experienced them. For Stephanie, that list includes love. It's out there. Somewhere. Eventually. Meanwhile she's got her job at the mixed martial arts training center and hot flings with gorgeous, temporary guys like Nick. Then a secret brings them closer, opening Steph's eyes to a future she never knew she wanted—until tragedy rips it away.

Nick's self-assured surface shields a past no one needs to know about. His mind-blowing connection with Steph changes all that. As fast as he's knocking down the walls that have kept him commitment-free, she's building them up again, determined to keep the hurt—and Nick—out. But he can't walk away. Not when she's the only one who's ever made him wish for forever . . .
Donna's thoughts: I just finished Fall with Me and I really can't wait for the next book in the series now.
Melanie's WoW
The Warrior Vampire (Last True Vampire #

2)
by Katy Baxter
Release Date:
October 27th
, 2015
The vampire was built for sin, every inch of him tight and bulky with corded muscle. A killer, that much was apparent, and she couldn't help but wonder if his appetite for violence would rival his appetites for other...things.

A WOMAN SEDUCED

Naya Morales is no ordinary mortal. Born with a shaman's power, she has devoted her life to tracking down stolen magic—and punishing those who take it. But one fateful night, she follows the alluring call of a sensual magic that is too glorious to be true—and finds herself face to face with a stunningly handsome thief who is too magnificent to resist...

A VAMPIRE ENSLAVED

From the moment he sees her, Ronan knows Naya is his mate. Driven by a deep, almost mystical connection, he aches for her body, hungers for her blood, and swears their souls are anchored together. Naya refuses to believe the words of a vampire—or risk the wrath of her tribe. But when she tries to make Ronan her prisoner, neither chains of silver nor fires of hell can help her escape the truth: she is the one who's been captured...
Melanie's thoughts:
Another sequel to add to my list, the first really impressed me so I'll be watching out for this one.
<
What's your "waiting on" pick this week?
Want to participate?
Grab the logo, post your own WoW entry on your blog, and leave your link at Breaking the Spine.