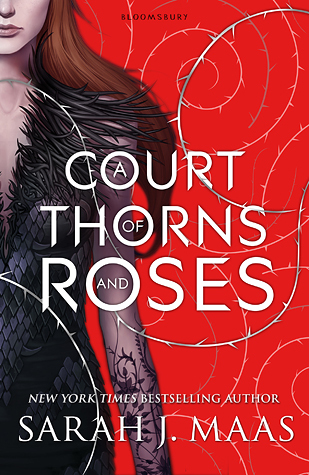 Posted by Melanie
Release Date: May 7th, 2015
Finished Date:
January 27th, 2015
Publishers:
Bloomsbury Children's
Genre:
YA, Fantasy, Romance
Source: For Review
Format: eARC
Pages: 432
The breathtaking start to a seductive high-fantasy from New York Times bestselling author of Throne of Glass series.
Feyre's survival rests upon her ability to hunt and kill – the forest where she lives is a cold, bleak place in the long winter months. So when she spots a deer in the forest being pursued by a wolf, she cannot resist fighting it for the flesh. But to do so, she must kill the predator and killing something so precious comes at a price.
Dragged to a magical kingdom for the murder of a faerie, Feyre discovers that her captor, his face obscured by a jewelled mask, is hiding far more than his piercing green eyes would suggest. Feyre's presence at the court is closely guarded, and as she begins to learn why, her feelings for him turn from hostility to passion and the faerie lands become an even more dangerous place. Feyre must fight to break an ancient curse, or she will lose him forever.
The Review: WOW! I totally loved this! It had everything I could look for in a fantasy book. Feyre was the sort of character that can be admired, she was versatile and became who she had to be - depending on her circumstances. In the beginning she is the survivor, the hunter and the bread winner – she had to be, her family would not have survived without her and she came across as cold hearted but again - she had to be. Her world was based on survival, day to day just trying to get by and survive, love never entered her world, it never entered her heart until she killed the wolf and her world became something else. When Tamlin and Lucien enter her life we get to see a new side to her, of course when she is first taken she is full of hostility, she doesn't want to be there and isn't afraid to let them know it. She can feel the resentment of them both but Tamlin makes the effort with her and slowly she rises to the surface, who she would have been without needing to ensure her family is safe. As she begins to relax in their company and they in turn make the effort with her – she blossoms. When love is given to her, when she loves in return….. she becomes something she never thought she would be and that is a warrior, someone who would stop at nothing to save those who she loved. It was extremely satisfying to see her bloom into a woman, one who allowed love into her cold heart and someone who hated those who had enslaved the humans but came to see them as family. The relationship that developed between Feyre and Tamlin was so sweet and tentative, it took time and wasn't insta love. I craved the moments between them, could feel every patter of her heart when he did something sweet for her and routed for them right up until the very end. I was glad that this was NA so that we got some steamier sexytime between them, it definitely added to the emotion of the book. The storyline was fab, it had a dystopian feel to it in the beginning with Feyre hunting and trying to keep her family fed, it's a very bleak world that they live in and you can feel it through Feyre. When she is taken by Tamlin it becomes more fantasy as we enter the world of fairie. The world inhabited by Tamlin was beautiful, some of the descriptions of places and fae were lovely and like Feyre wanted to paint them, I wanted to see them. The first half of the book is very much devoted to getting to know the characters and the world and also seeing the relationship develop between Feyre & Tamlin. There are also threats that happen to her from more dangerous fae when she is shown just how scary they can be but we also get to see her changing opinion of them through these encounters. Tamlin's estate becomes safe for her but we are always reminded of the dangers that can happen. We are aware that Tamlin's court has a curse placed upon it but everyone is tight lipped about it and it's up to Feyre to work things out, we are given hints but no one is ever forthcoming with information until Feyre's existence and meaning to Tamlin is revealed – then it really hits the fan and Tamlin makes the ultimate sacrifice to keep her safe. Once we start to get information about what is truly going on in their world, the plot really quickens and becomes more action driven. We finally find out who is running the show and what that means for Tamlin. Feyre really comes into her own and realises just what he means to her, what she is willing to fight for and what she plans to do about it. She is put through her paces in quests that are designed to kill her, she must win to release Tamlin's court and any hopes of a happy ever after. The action, plotting, fights…everything was brilliant here, the story had been so subdued to a certain point and then everything is flung on its head and it all rests on Feyre's shoulders showing us just what she has become and creating a thrilling conclusion that had my heart beating so fast and breaking at the same time – it was just wonderful and I loved it! The world was beautiful, filled with fantastical beasts, fairies and the likes, there is a curse to be broken, love to be found and above all hope – hope that there was a better life to be had. I can't fault this in anyway and I will be definitely waiting for the sequel.
Thank you to Bloomsbury for giving me the opportunity to review this book in exchange for an honest review.