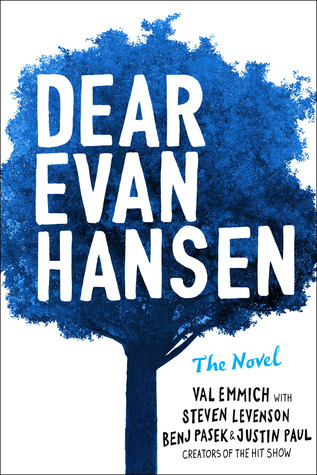 Posted by Laura (Guest Reviewer)
Release Date: October 9th, 2019
Finished Date:
October 2nd, 2019
Publishers: Penguin
Genre:
Contemporary, Fiction, YA
Source: For Review
Format: Hardcover
Pages: 368
Buy:
Amazon UK
/
Amazon US / The Book Depo
From the show's creators comes the groundbreaking novel inspired by the Broadway smash hit Dear Evan Hansen.
Dear Evan Hansen,
Today's going to be an amazing day and here's why...
When a letter that was never meant to be seen by anyone draws high school senior Evan Hansen into a family's grief over the loss of their son, he is given the chance of a lifetime: to belong. He just has to stick to a lie he never meant to tell, that the notoriously troubled Connor Murphy was his secret best friend.
Suddenly, Evan isn't invisible anymore--even to the girl of his dreams. And Connor Murphy's parents, with their beautiful home on the other side of town, have taken him in like he was their own, desperate to know more about their enigmatic son from his closest friend. As Evan gets pulled deeper into their swirl of anger, regret, and confusion, he knows that what he's doing can't be right, but if he's helping people, how wrong can it be?
No longer tangled in his once-incapacitating anxiety, this new Evan has a purpose. And a website. He's confident. He's a viral phenomenon. Every day is amazing. Until everything is in danger of unraveling and he comes face to face with his greatest obstacle: himself.
A simple lie leads to complicated truths in this big-hearted coming-of-age story of grief, authenticity and the struggle to belong in an age of instant connectivity and profound isolation.
The Review:
"Even when the dark comes crashing through, when you need a friend to carry you and when you're broken on the ground, you will be found."
Having been constantly obsessed with the Dear Evan Hansen soundtrack and watching YouTube videos of the cast singing on repeat. I was overjoyed to receive a early copy. As I don't see myself visiting Broadway anytime soon. As much as I wish I was.
So the novelisation of The Broadway show is the closest I'll get. From the first page I was pulled into this fabulous story and all its characters had me gripped.
I read this book in two sittings and was so sad when I had no more pages left to read. It's official I'm Dear Evan Hansen trash, I'm even more in love than before.
Thank you to Penguin for giving me the opportunity to review this book in exchange for an honest review.